Before and After anti wrinkle treatment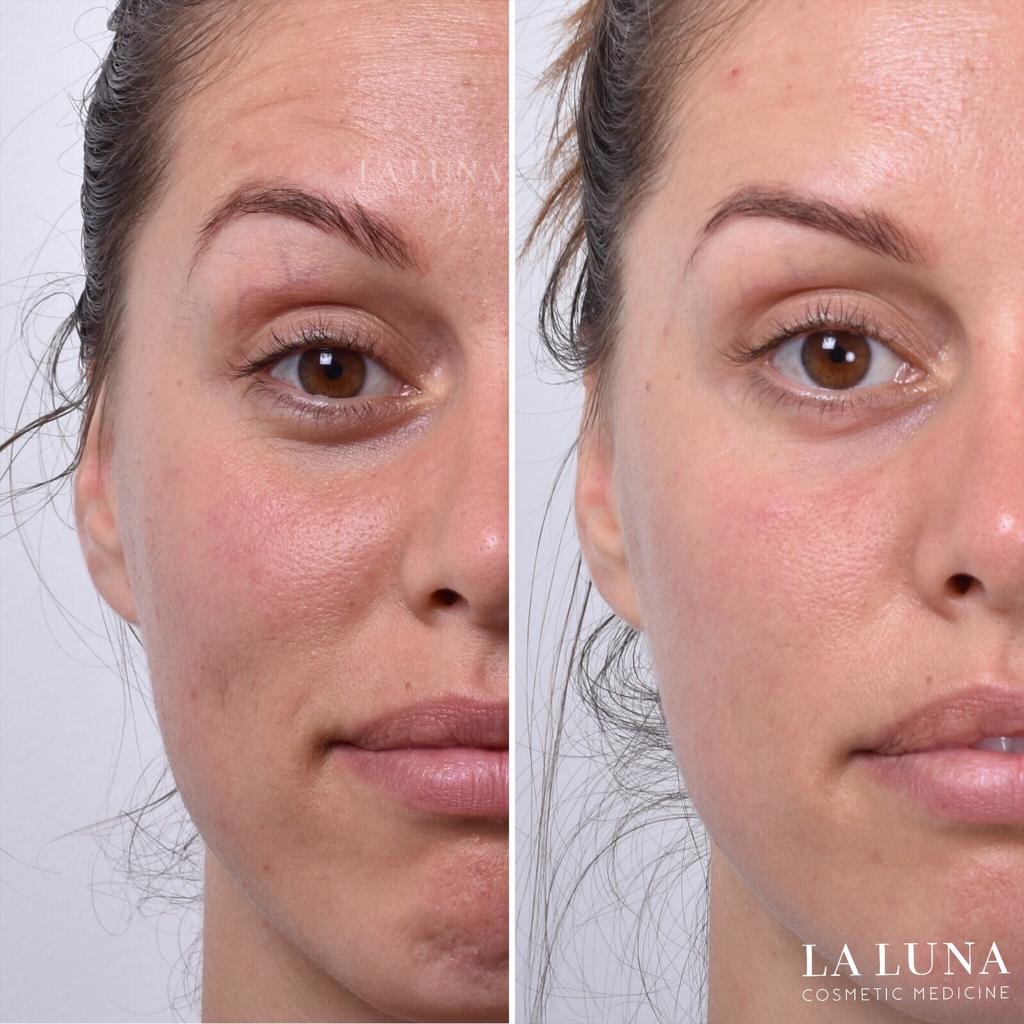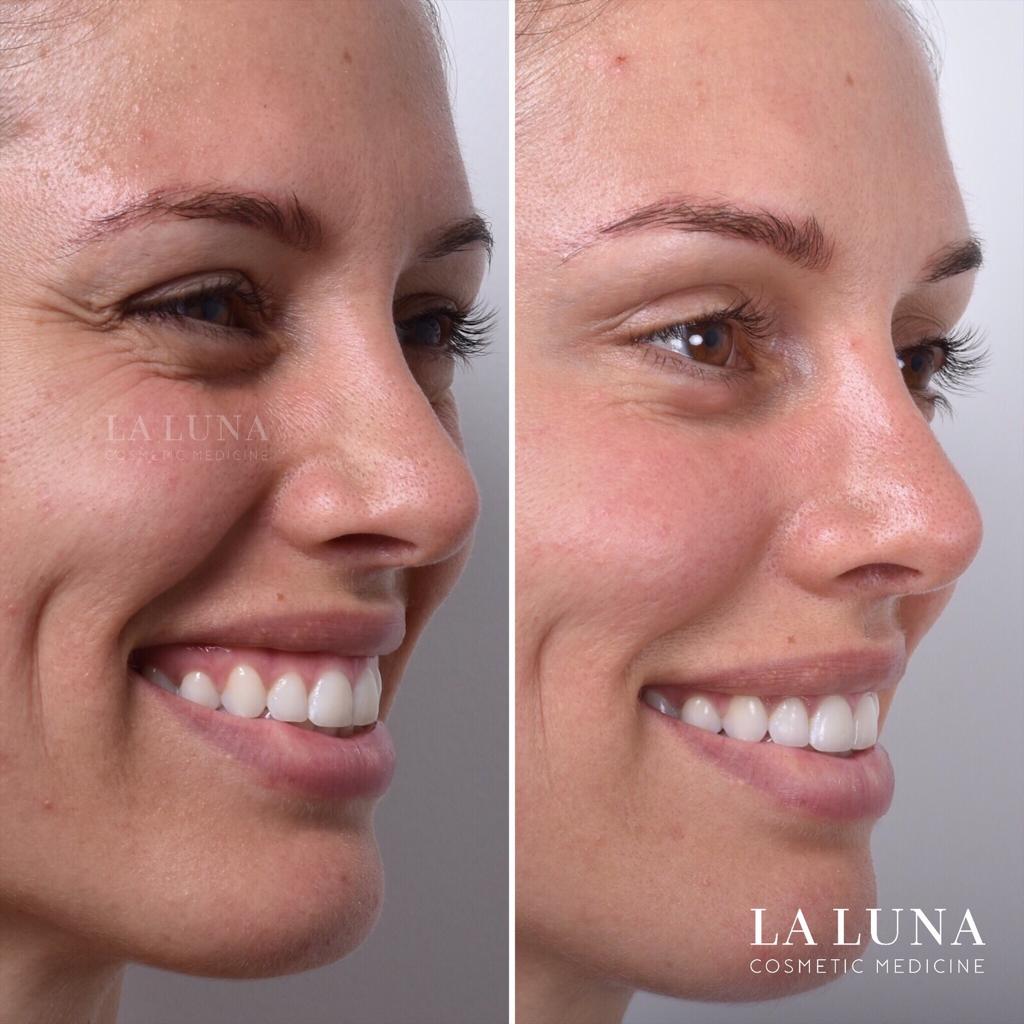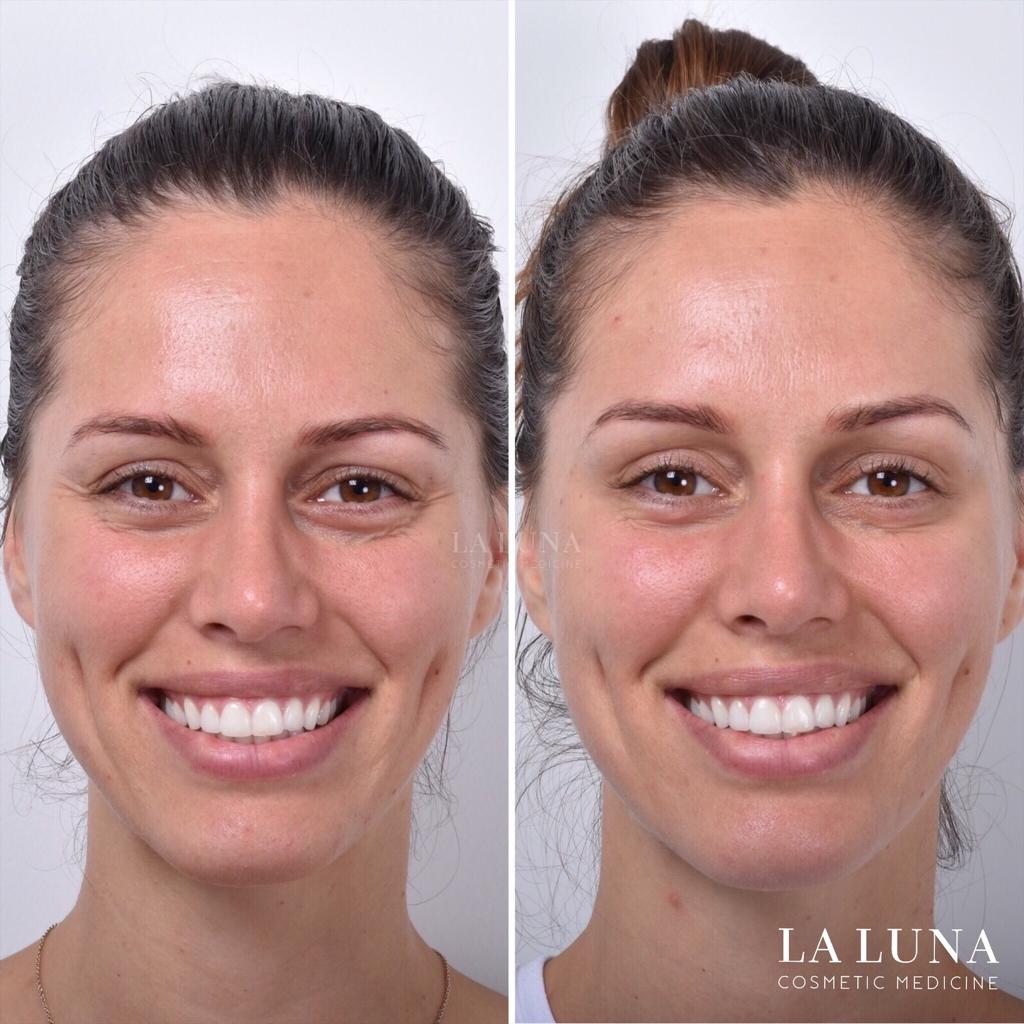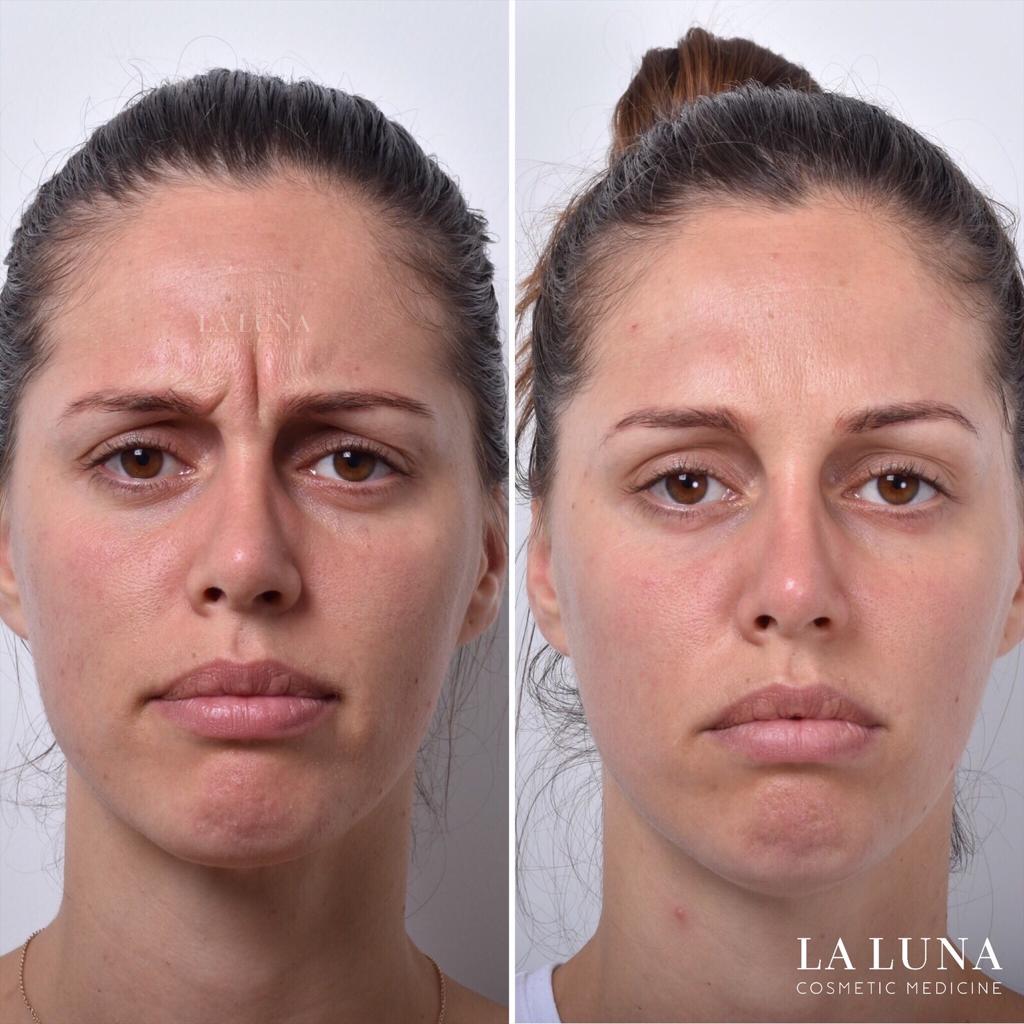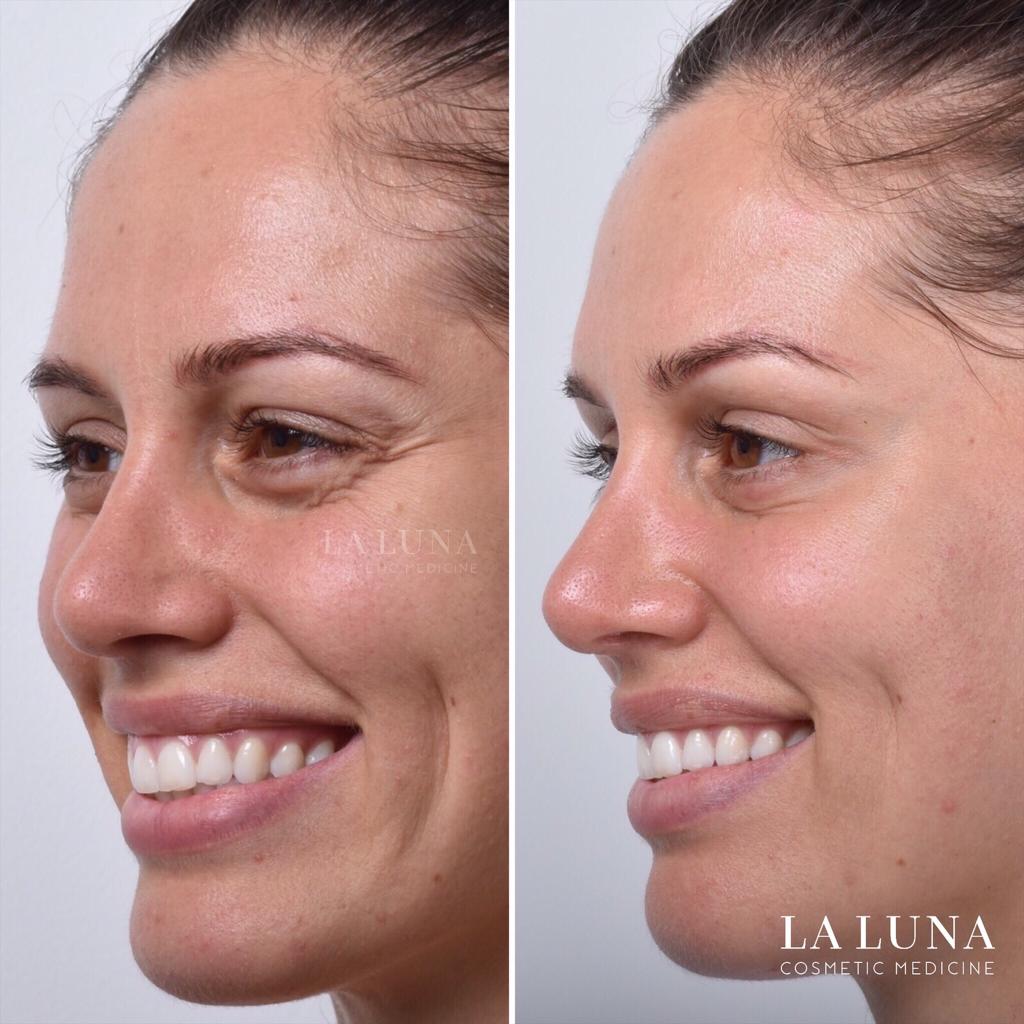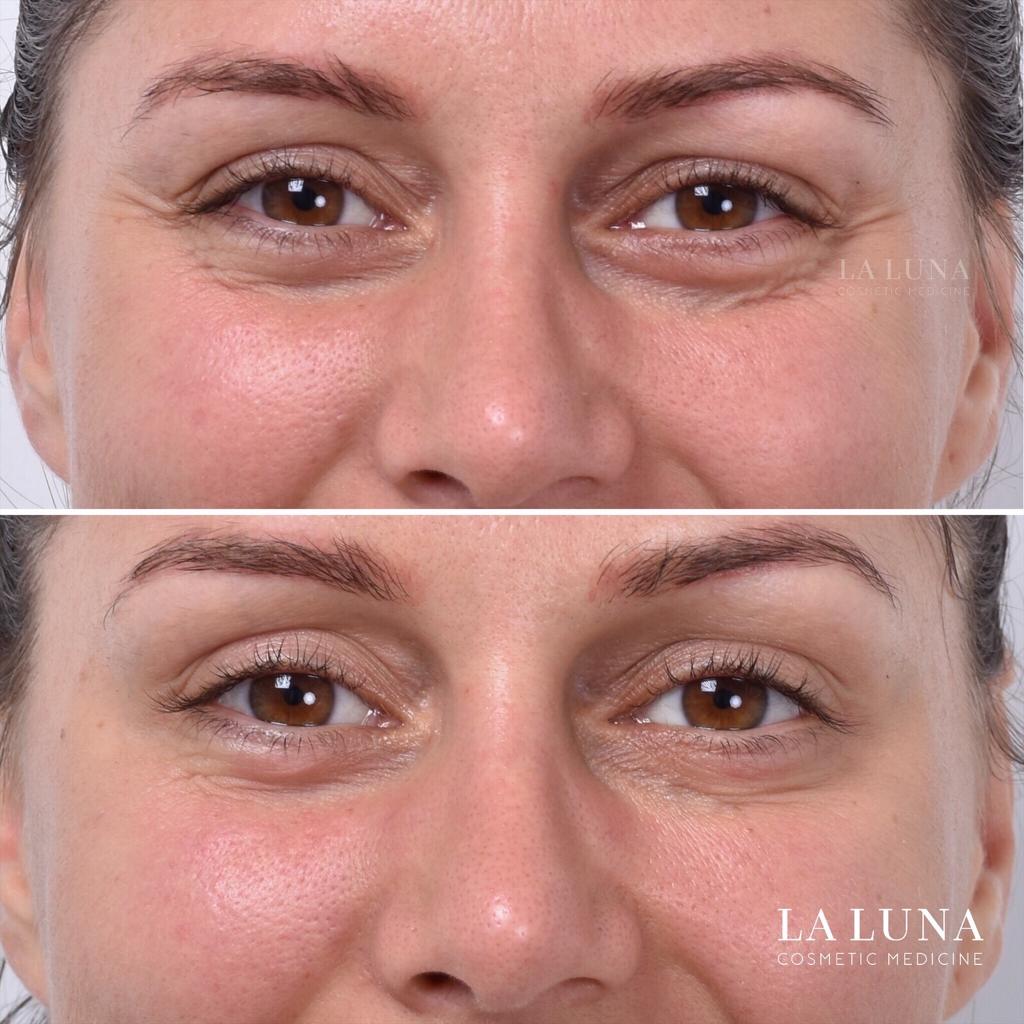 Sydney Cosmetic Anti Wrinkle Injection Treatments

La Luna is a dedicated Sydney anti wrinkle injection Clinic that focuses on restoring the youthfulness that is often masked by our wrinkles such as forehead wrinkles, eyes, wrinkles around the lips and neck. Having said this, forehead wrinkle treatments are becoming very popular as of late as this adds a huge boost in restoring a youthful look as well. As we strive to be Sydney's best cosmetic injection clinic our treatments are carried out by qualified doctors. This ensures our customers are in safe and knowledgeable hands and we always aim for the best anti wrinkle treatments. Anti-wrinkle injections are a quick, non-surgical way to achieve a relaxed and refreshed look such as
Key points about La Luna Cosmetic Doctors

You will be injected by a Cosmetic Doctor only
Our doctors are highly experienced with over 17 years experience in cosmetic medicine and over 30 years in medicine
Our clinic is centered around natural looking results and facial balance
We have developed a unique injecting technique that produces a wrinkle free yet natural look
We use only the most premium anti wrinkle brands
Bookings: 02 8096 1919
How Long Do Wrinkle Treatments Take?
Wrinkle Treatments at our Sydney wrinkle clinic generally takes around 30 minutes. However, for the first consultation the doctor will spend time explaining the procedure, possible side effects and what you should expect.
How Long Before I see Results From a Wrinkle Treatment

Takes 5 to 14 days for full effect.
How Long Do Treatments For Getting Rid Of Or Reducing Wrinkles Last?
Non Surgical treatments for reducing or getting rid of wrinkles typically last between 3 to 5 months.
How Many Units Will I Need?
At La Luna we are results orientated and provide as many units as you need. Our cosmetic doctors at La Luna will develop a personalised plan for every patient as every individual is different and will require varying amounts. It is best to book a consultation with one of our cosmetic doctors to receive an accurate treatment plan which includes the pricing. Feel free to call our friendly staff for more information on how to get rid of wrinkles fast.
Bookings: 02 8096 1919
How Do Cosmetic Anti Wrinkle Injections Work?
Wrinkles are caused by repeated muscle contraction from our facial expressions. You can get rid of wrinkles naturally without surgery with anti wrinkle treatments. Anti-wrinkle treatments relax these muscles which softens the appearance of lines and smooths out the skin. At La Luna we aim to achieve natural-looking results and avoid the 'frozen' look. It's what a natural look  clinic should be able to achieve. La Luna can help you get rid of wrinkles naturally without surgery when you talk to our cosmetic doctors. If you've been searching for that natural look cosmetic treatment, La Luna is the Sydney cosmetic clinic for non invasive, non surgical cosmetic aesthetics
What Can Cosmetic Injections Be Used For?
Forehead Wrinkles
Frown Lines
Crow's Feet
Glabellar Lines (Between the eyebrows)
Smile Lines
Bunny Lines
Gummy Smile Correction
Jaw slimming
Eyebrow Lift
Nose Lift
Migraines
Are Non Surgical Treatments For Wrinkles Painful?
During a typical wrinkle treatment, we use numbing cream on the area being injected so there is minimal pain.
When Should I visit an Anti Wrinkle Clinic?
This treatment is not only for people who want to reduce the appearance of wrinkles but those who would like to prevent wrinkles, relax muscles in the face to make the face to appear slimmer and more defined.
Bookings: 02 8096 1919
What Can Anti Wrinkle Treatments Be Used For?
Anti wrinkle treatments can be used to correct gummy smile
To treat migraines
Lift nose and eyebrows
Increase appearance of eye size
Reduce excessive sweating
Decrease jaw muscles for a slimmer face
Are Wrinkle Treatments Safe?
Wrinkle Treatments are a safe procedure with minimal risks and side effects and these effects are often reversed after 3 months. Non surgical treatments for wrinkles have been used for the last 20 years in Australia and there are no reported long-term side effects,making it a safe procedure.
Can You Have Treatments To Reduce Wrinkles While pregnant or breastfeeding?
Anti wrinkle injections are not recommended while pregnant or breast feeding.
What Are Cosmetic Injections Aftercare ?
Immediately after the treatment do not rub or touch the treated area. After the treatment, it is best to not exercise, drink alcohol or sleep on your stomach/face for the next 12 to 24 hours. During the consultation with one of our cosmetic doctors, you will be informed of appropriate aftercare. When you are looking for perfection in natural look cosmetic treatments, as an anti ageing clinic we strive to be one of the best Sydney cosmetic clinic and also aim to be one of the best natural looking anti wrinkle injections in Sydney
When Will I See Results From Anti Wrinkle Injections ?
Cosmetic injections usually have the desired effect after 5 to 14 days. After your treatment we recommend booking a follow-up review appointment after two weeks with our Sydney anti wrinkle clinic. La Luna can certainly help you revive that natural look you've been looking for and from a natural perspective we aim to offer the best non surgical wrinkle treatment that you can get from a leading cosmetic practice. Our expertise offers an anti wrinkle treatment deal that gives real and lasting results. Call our Sydney anti wrinkle clinic to find out more
Bookings: 02 8096 1919