Thread Lift before and after results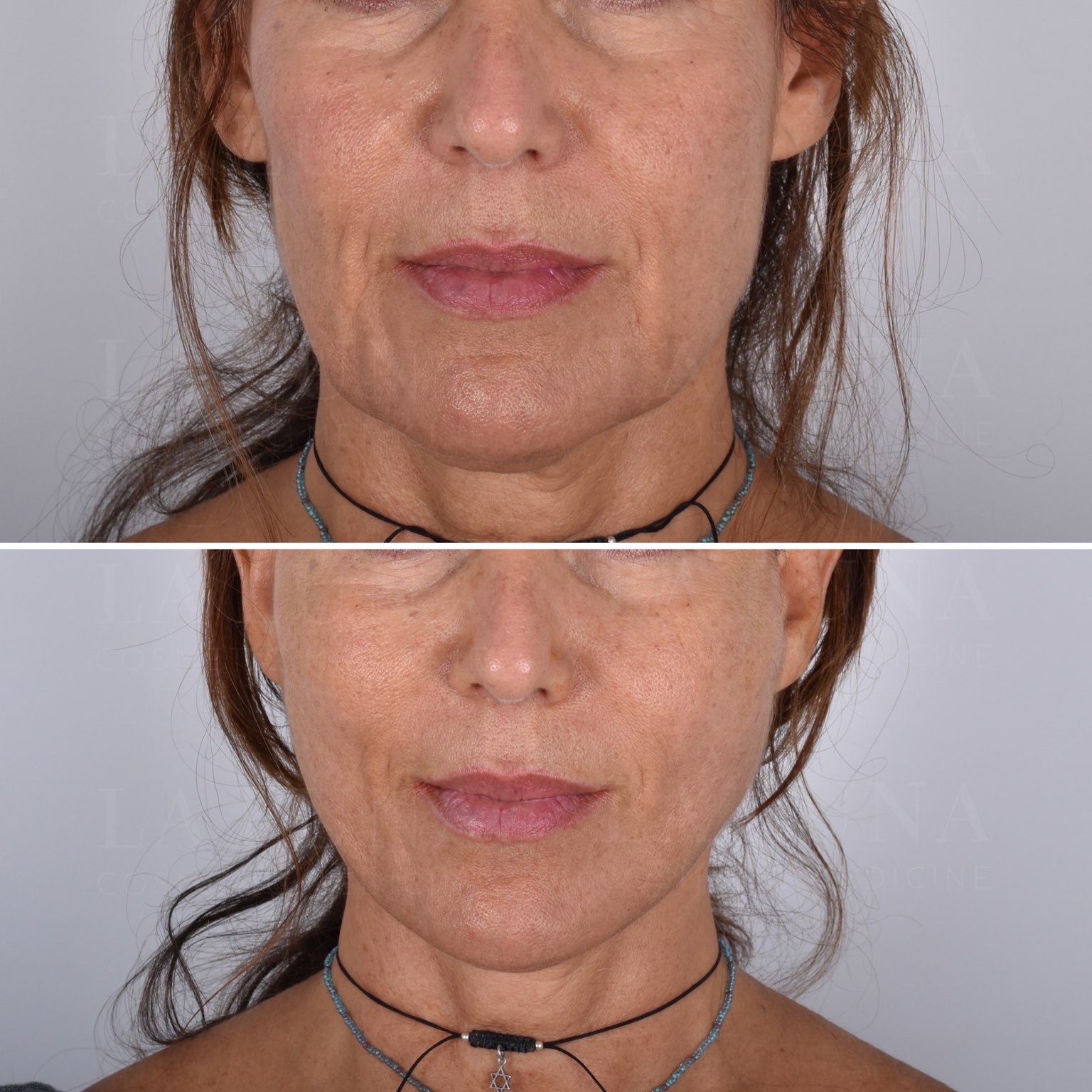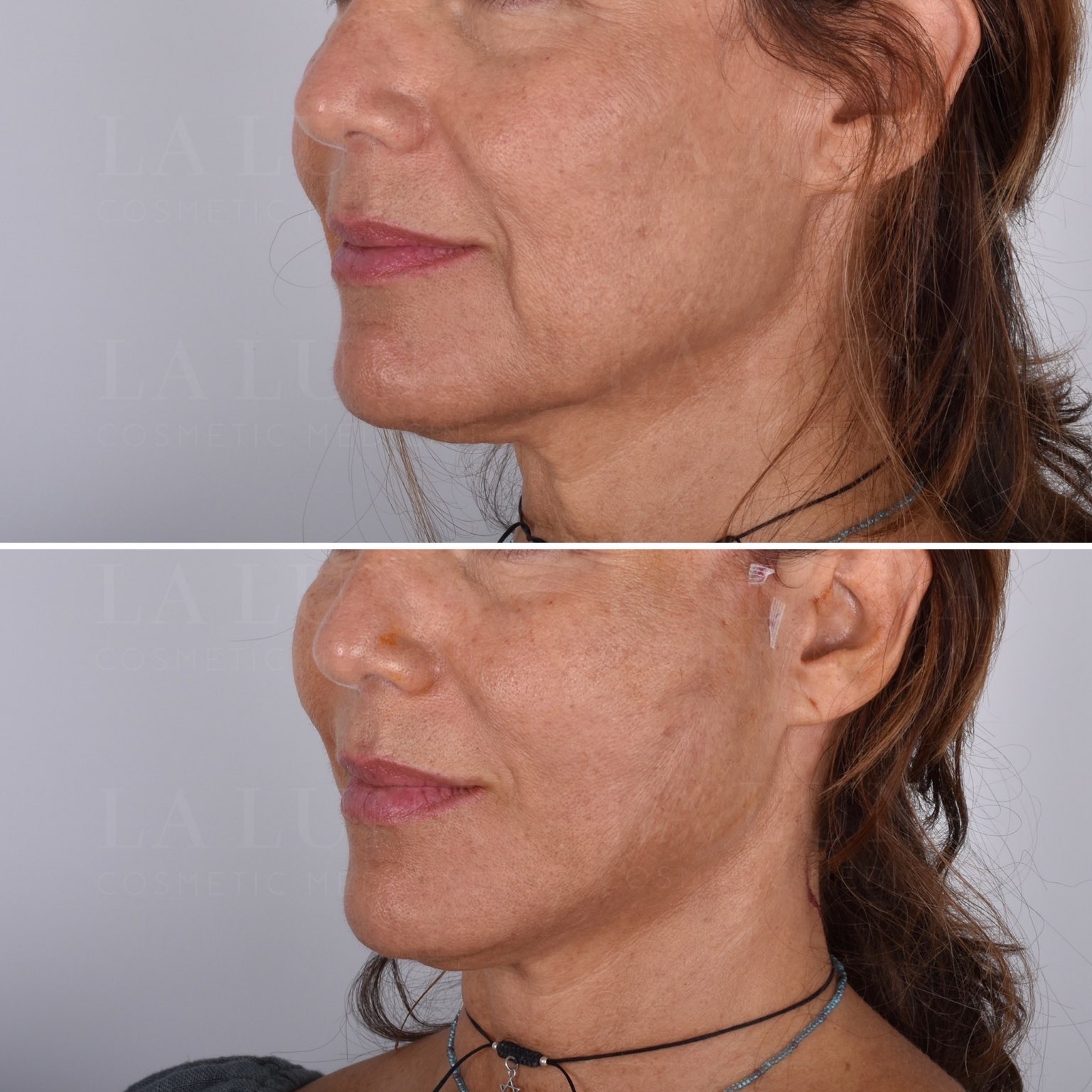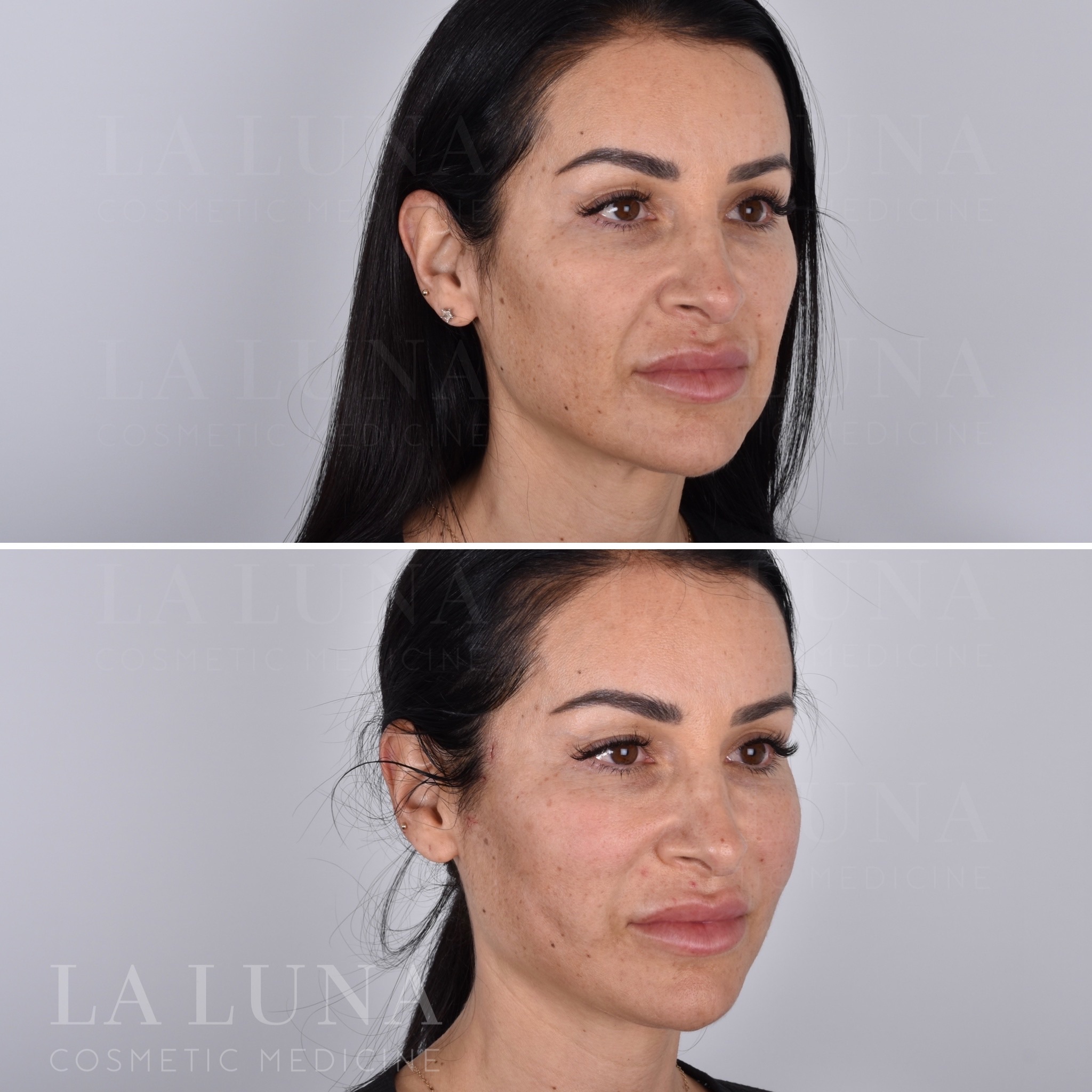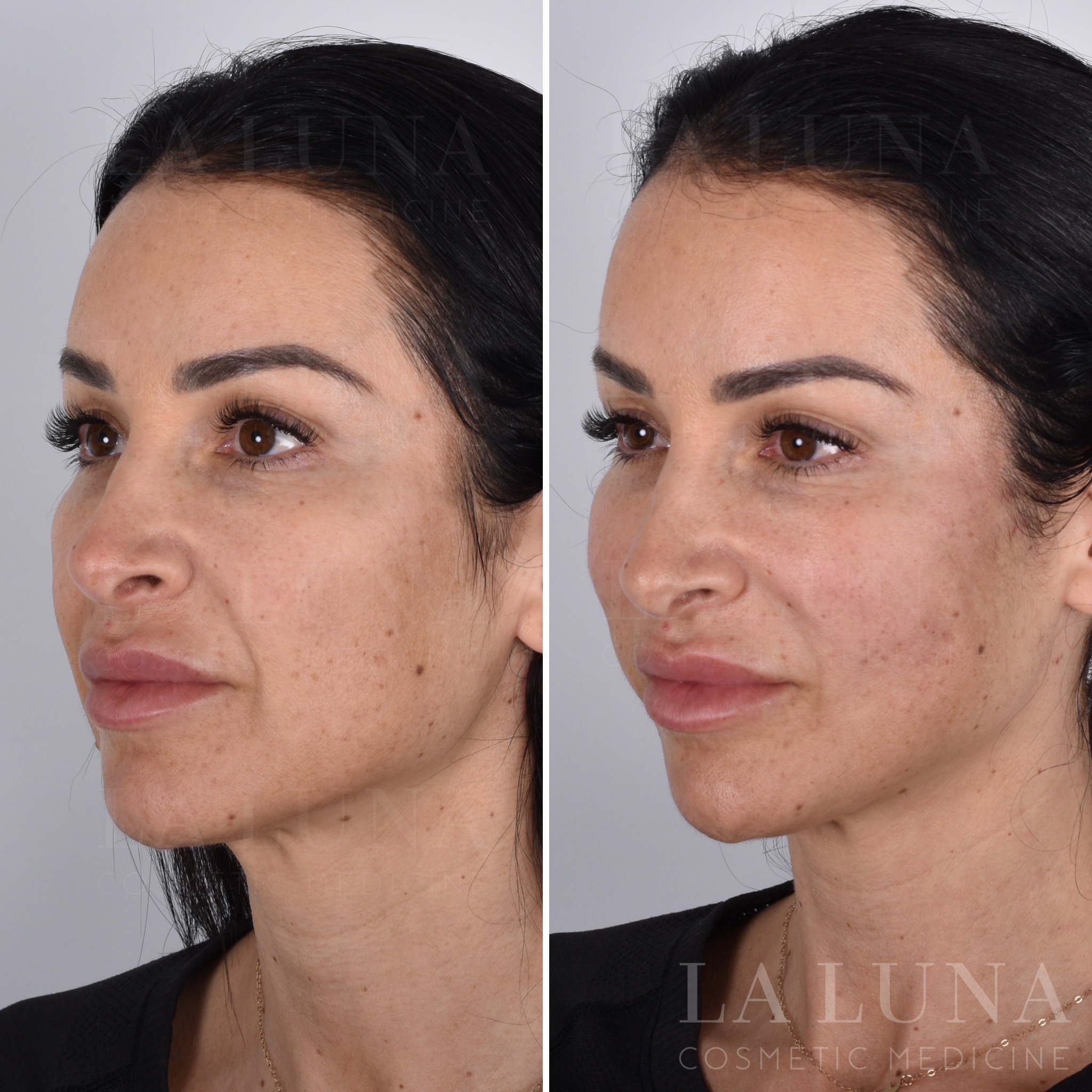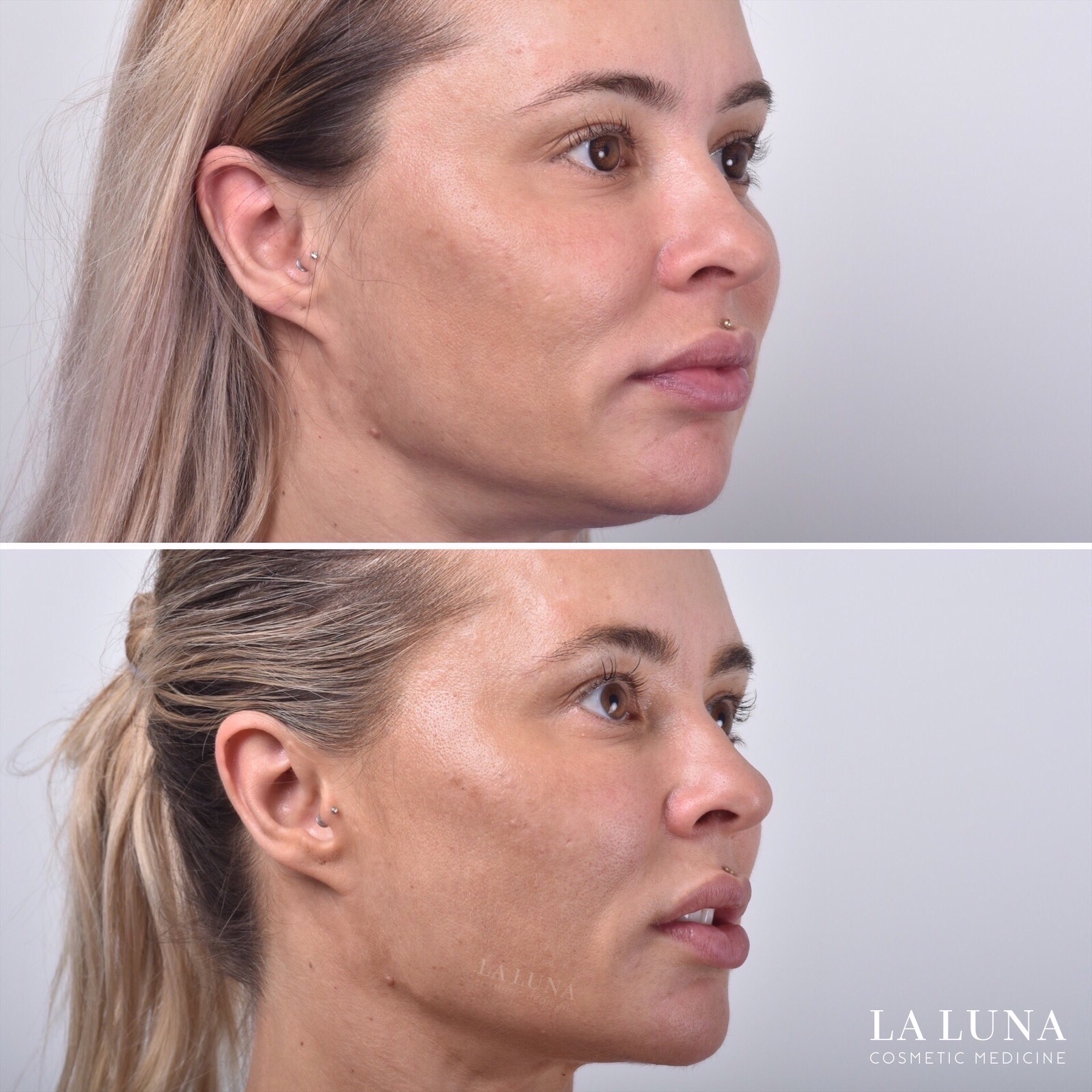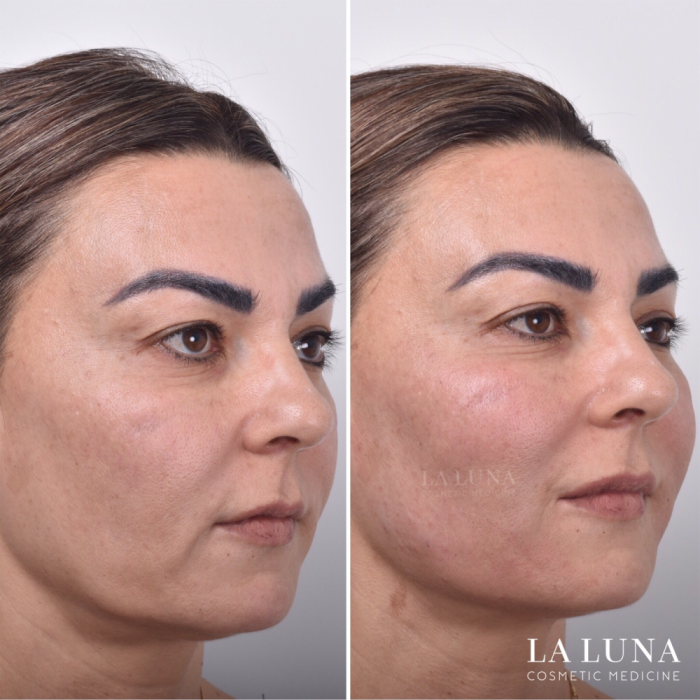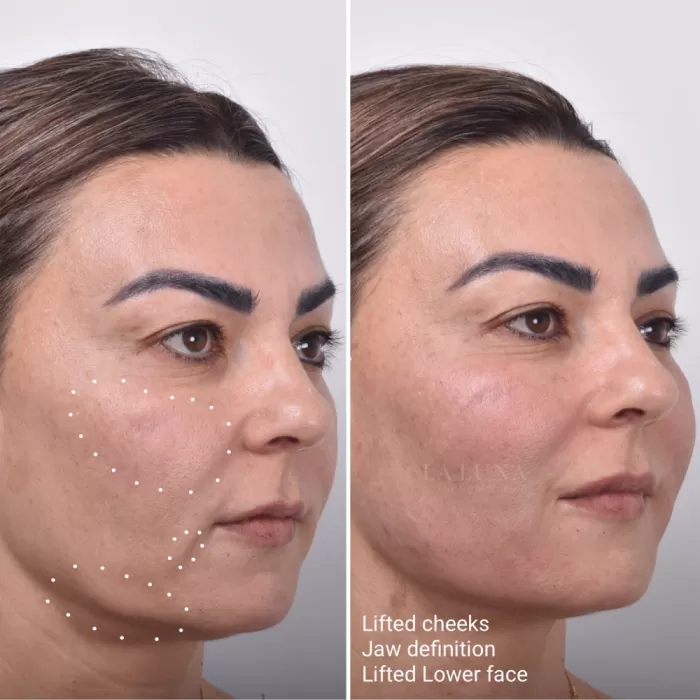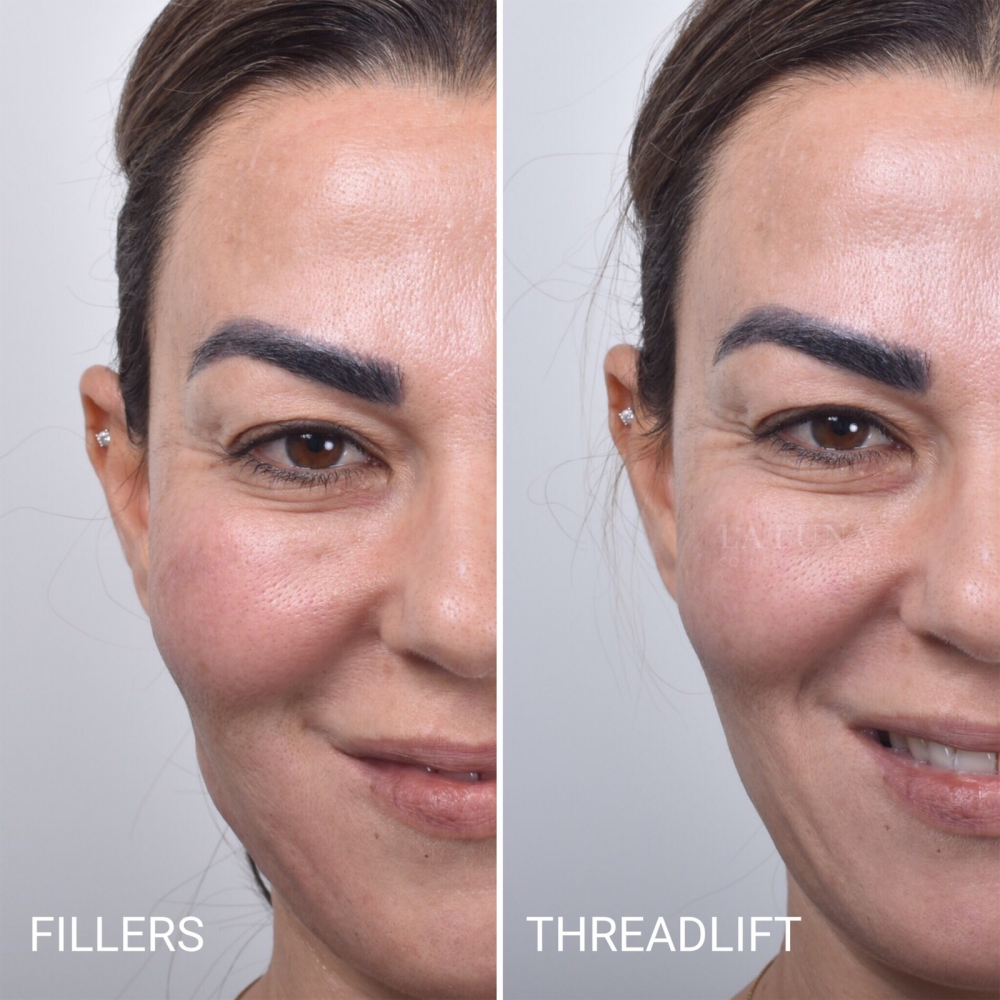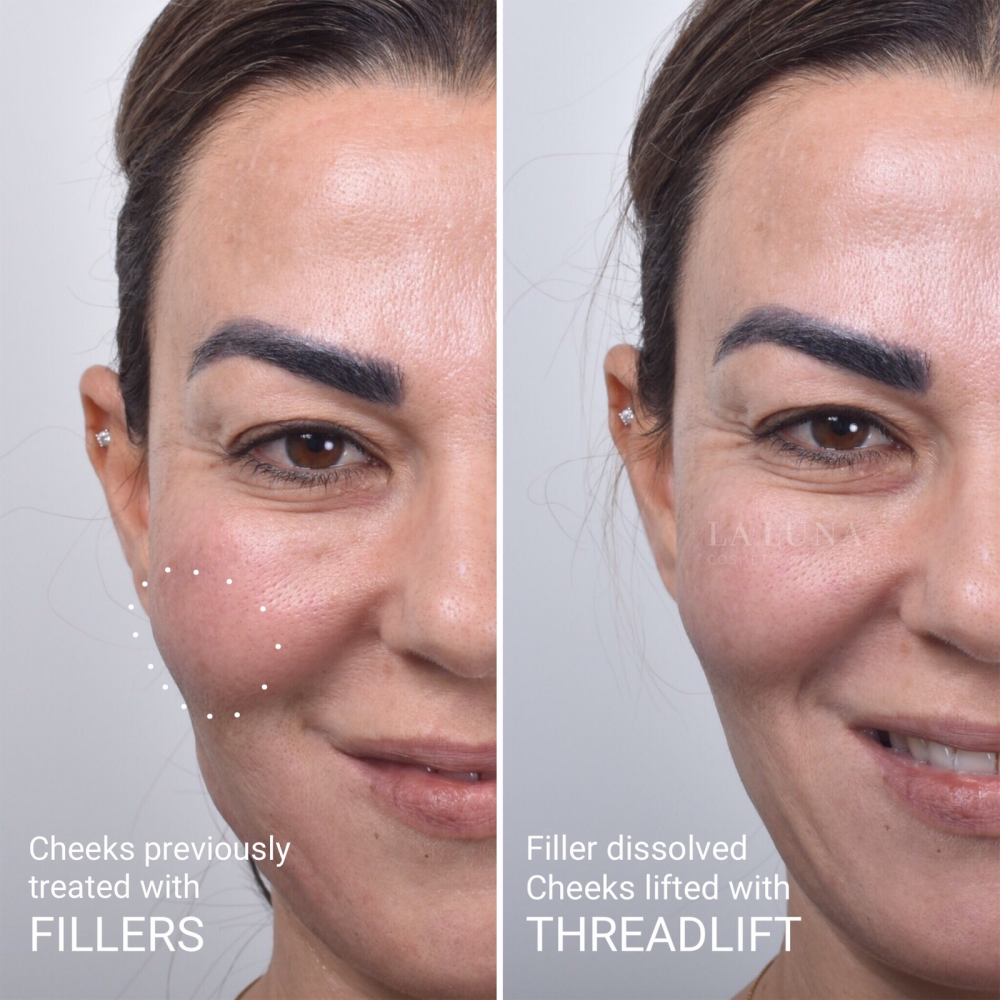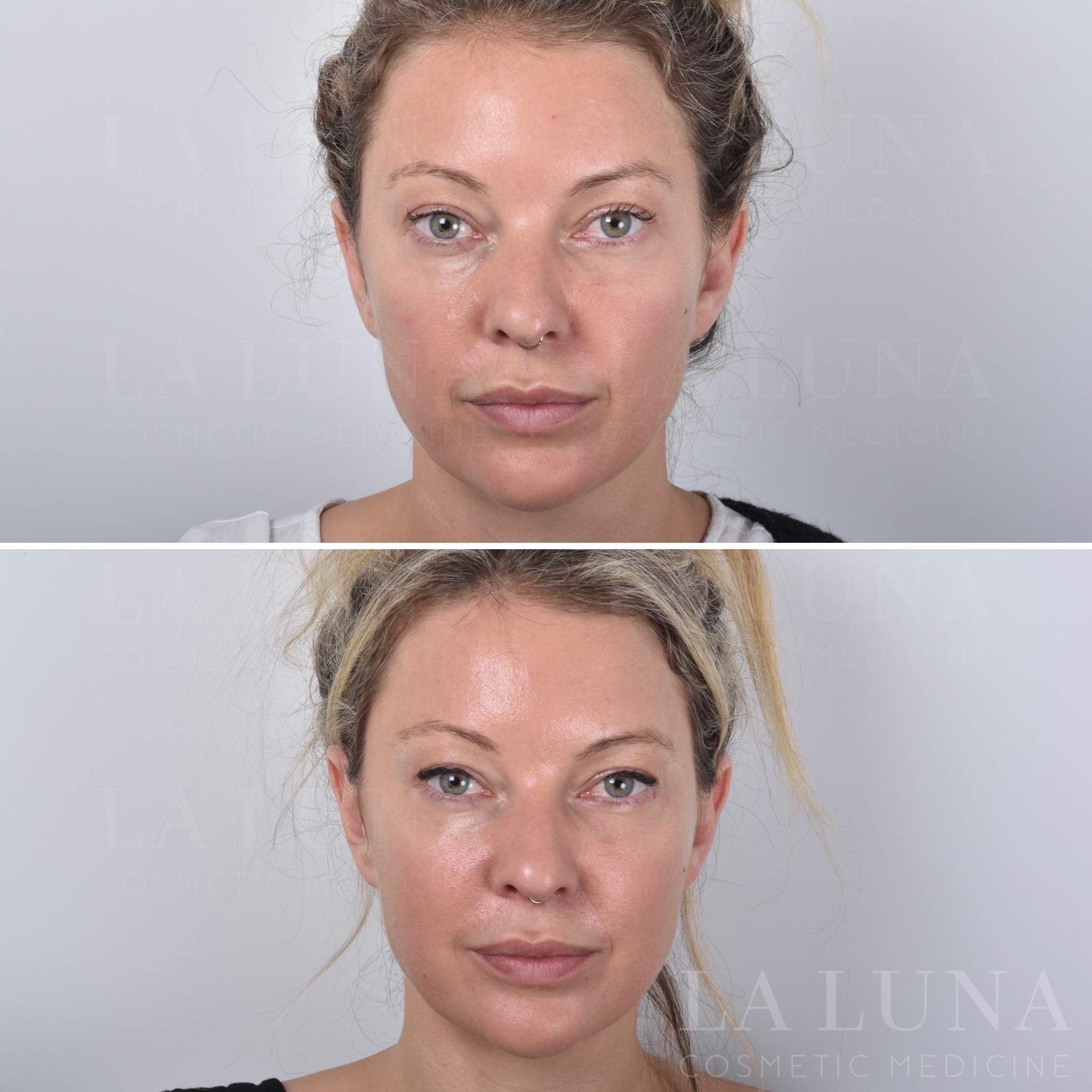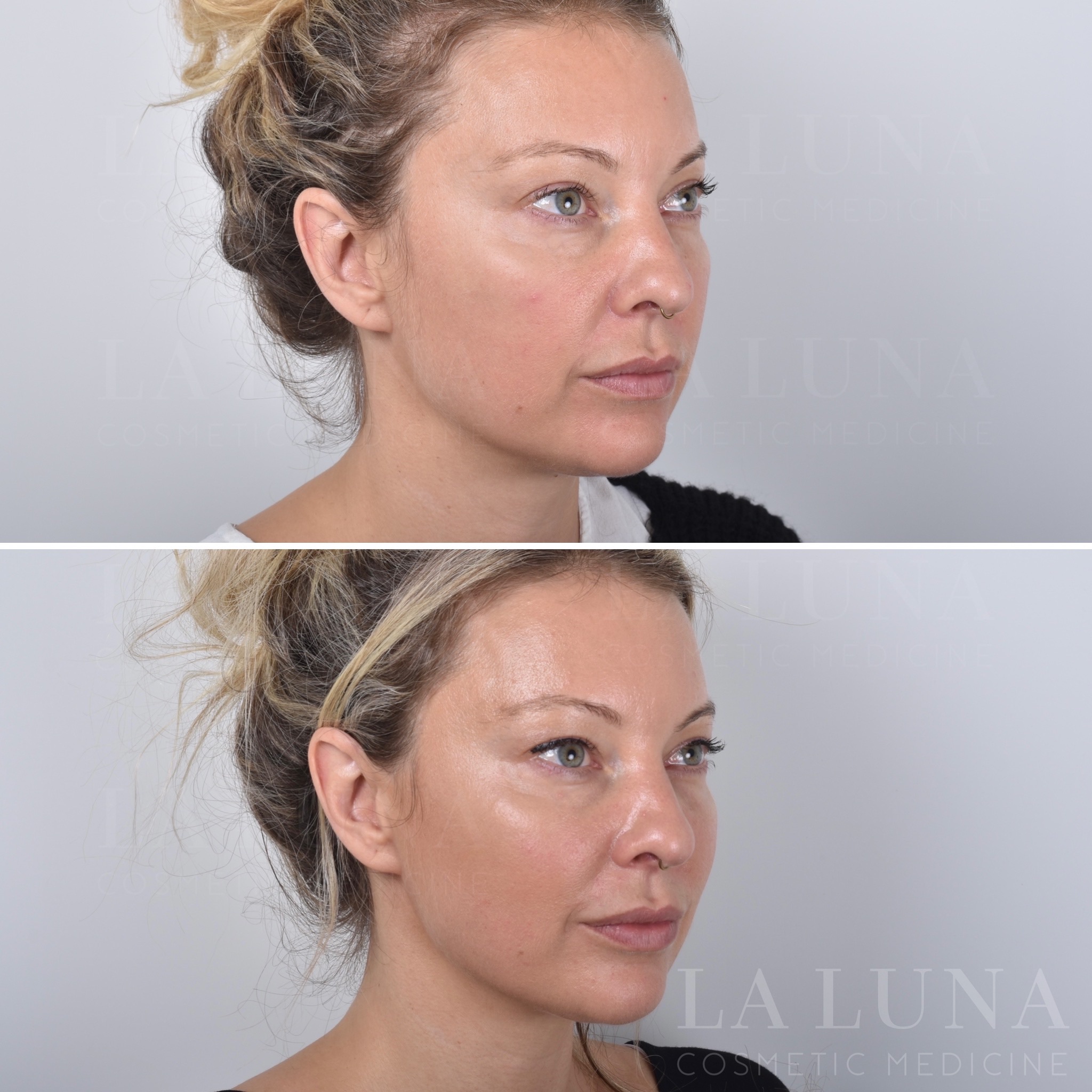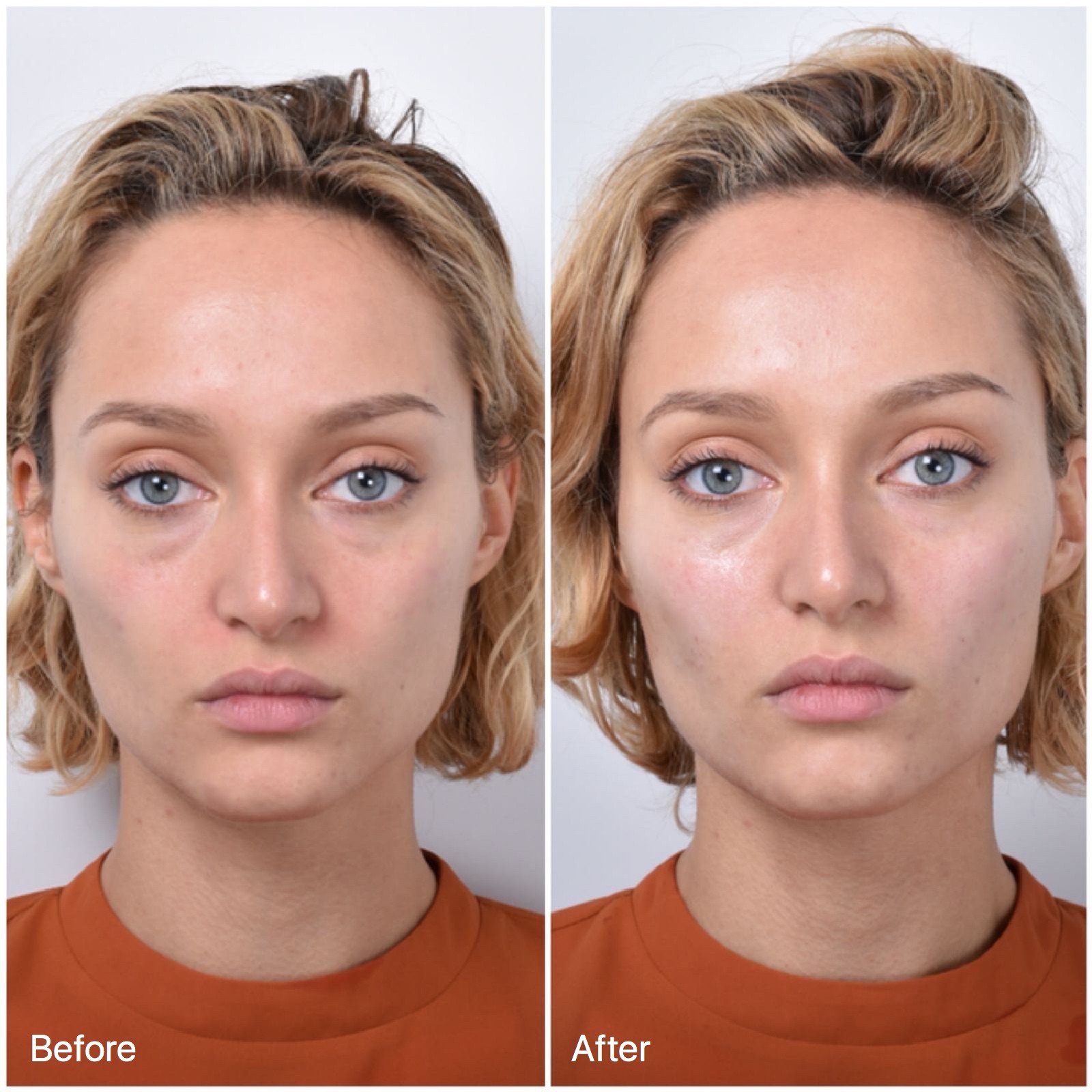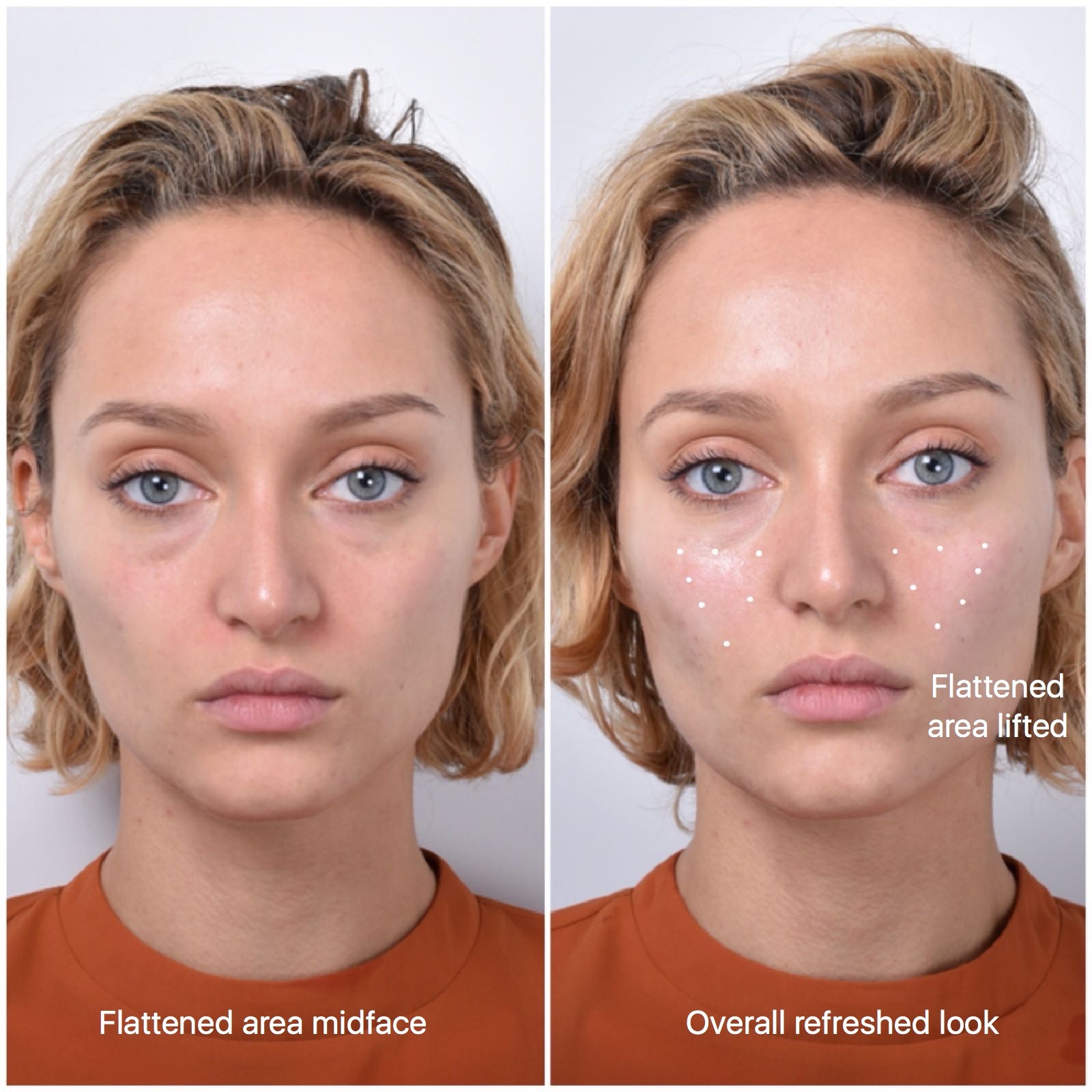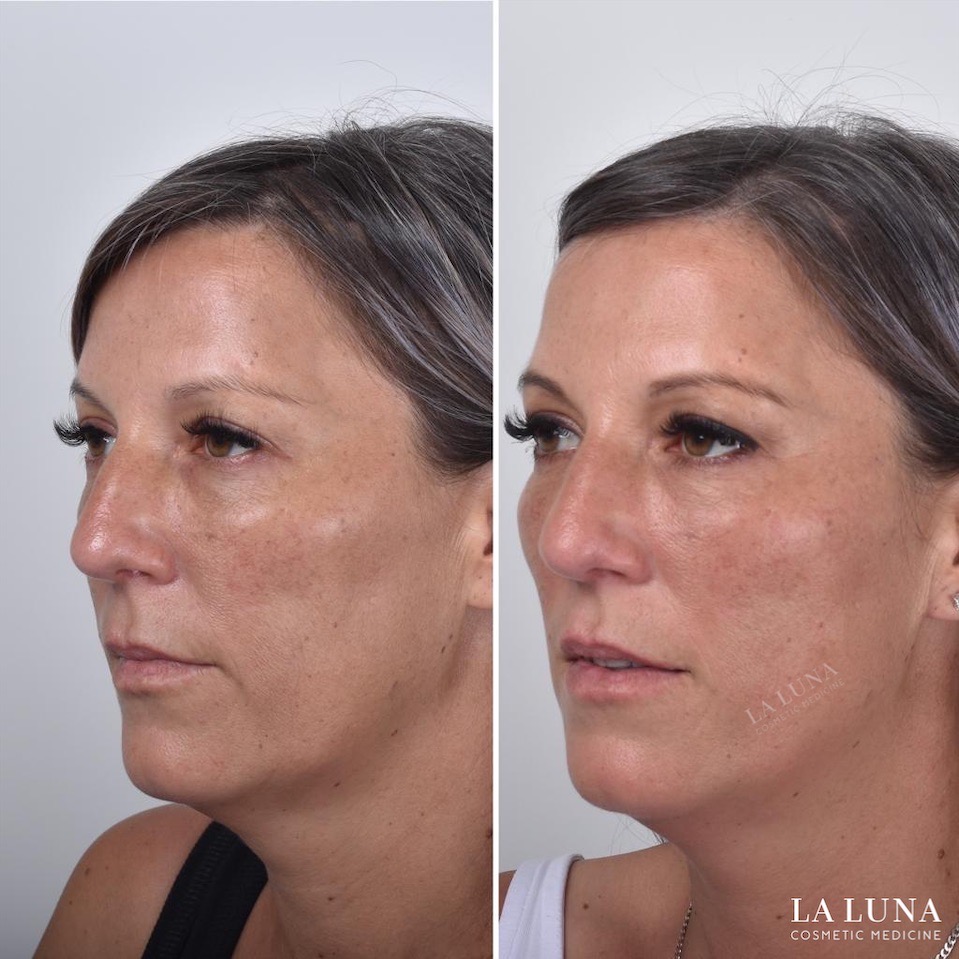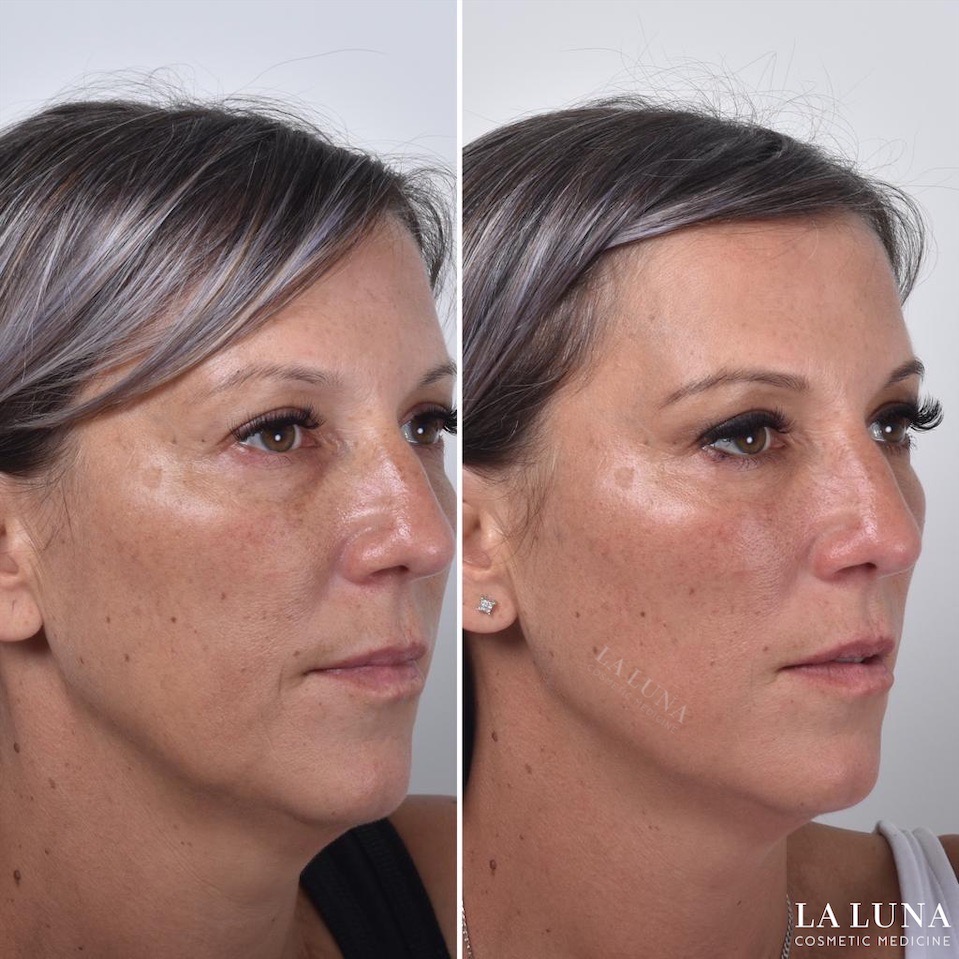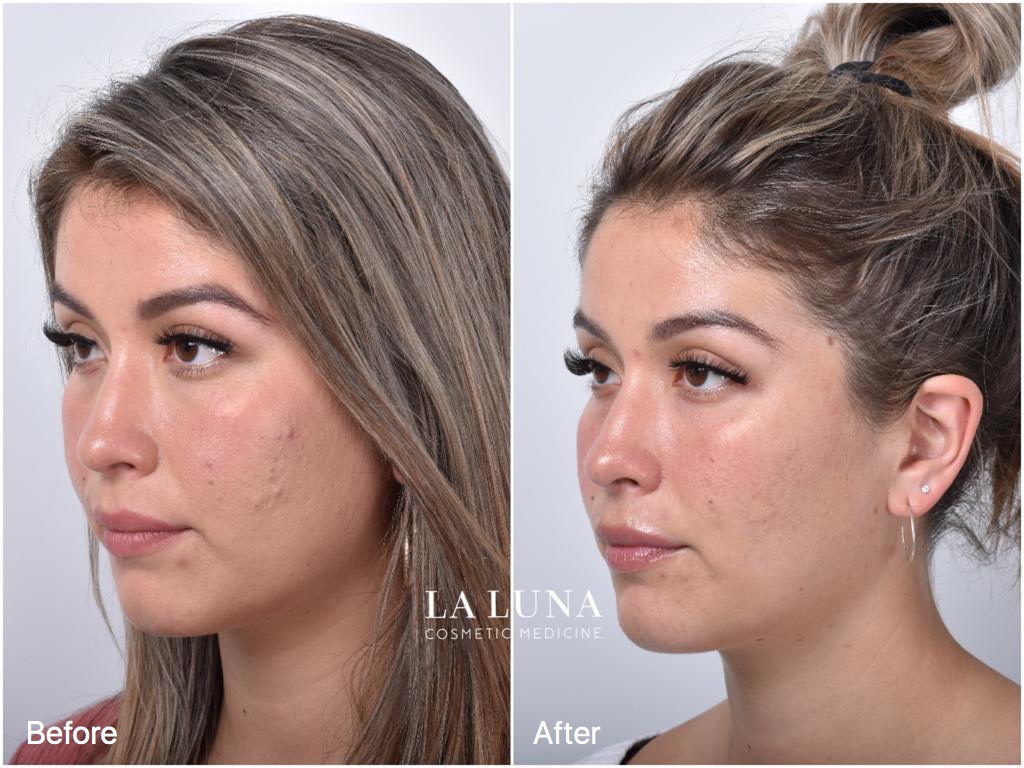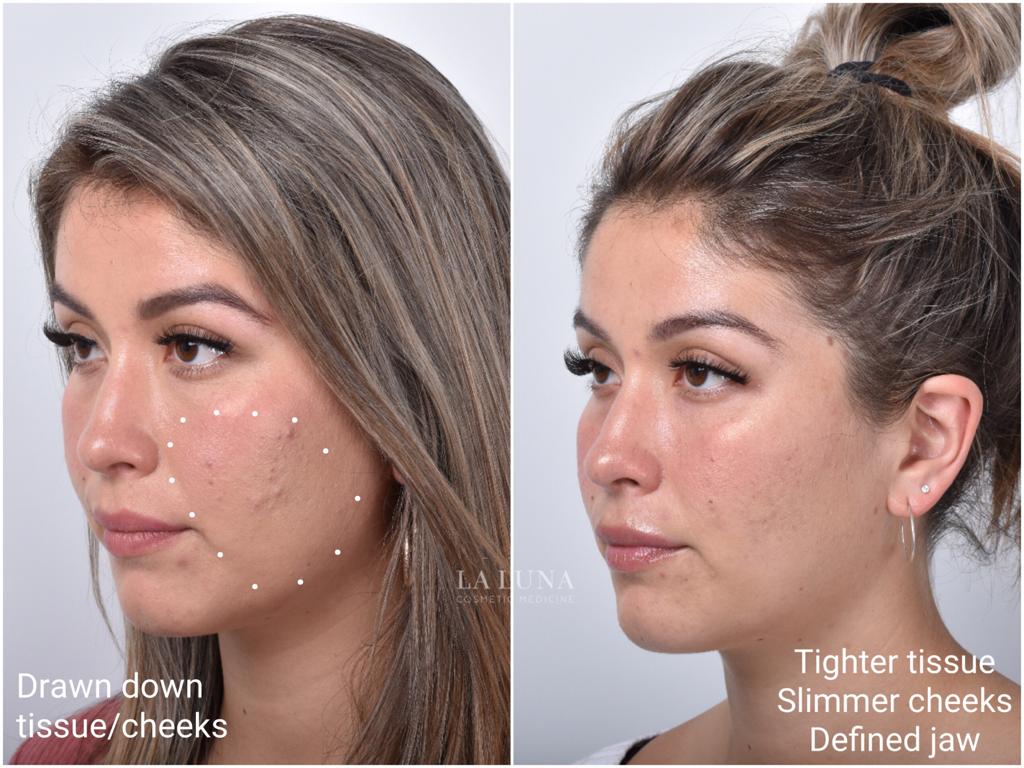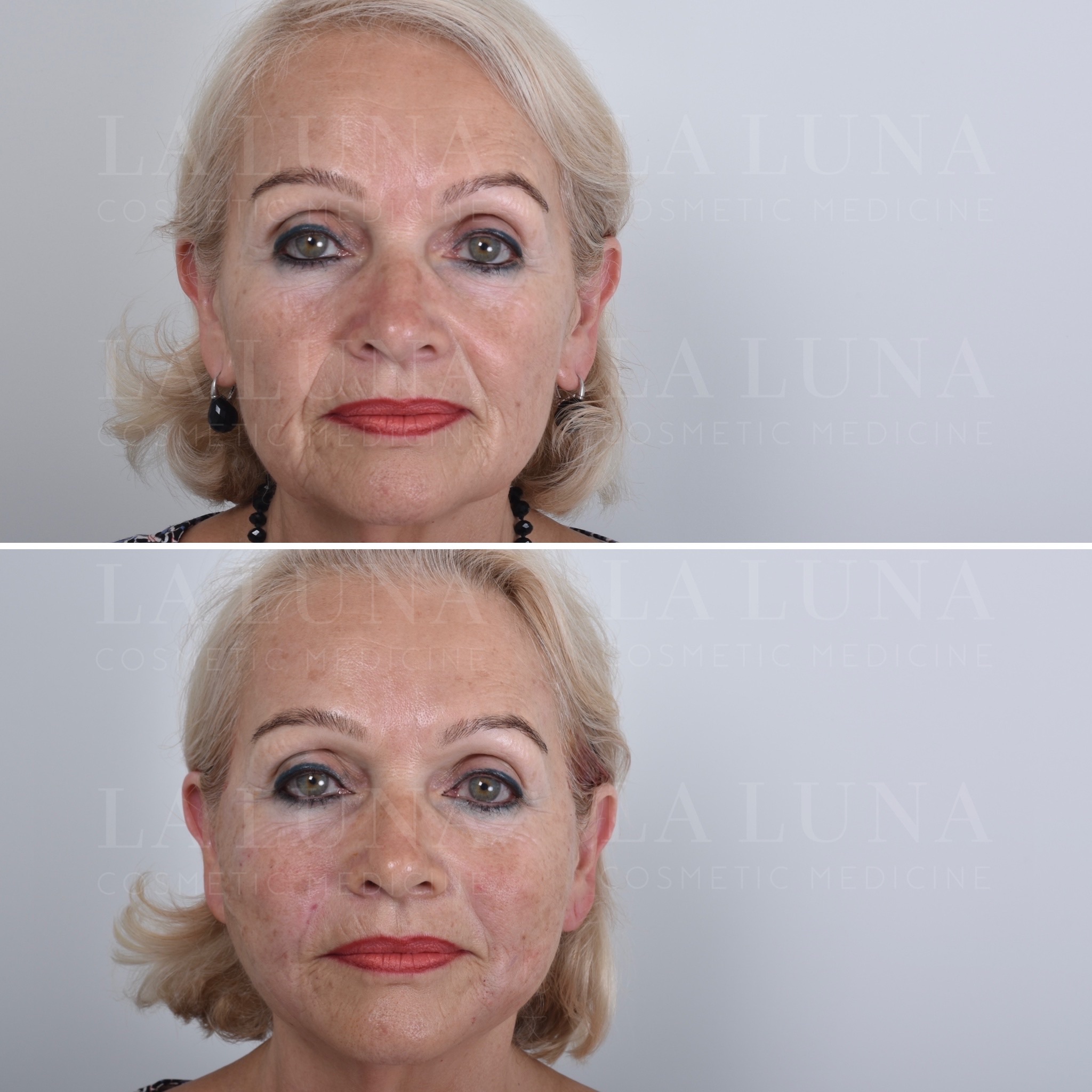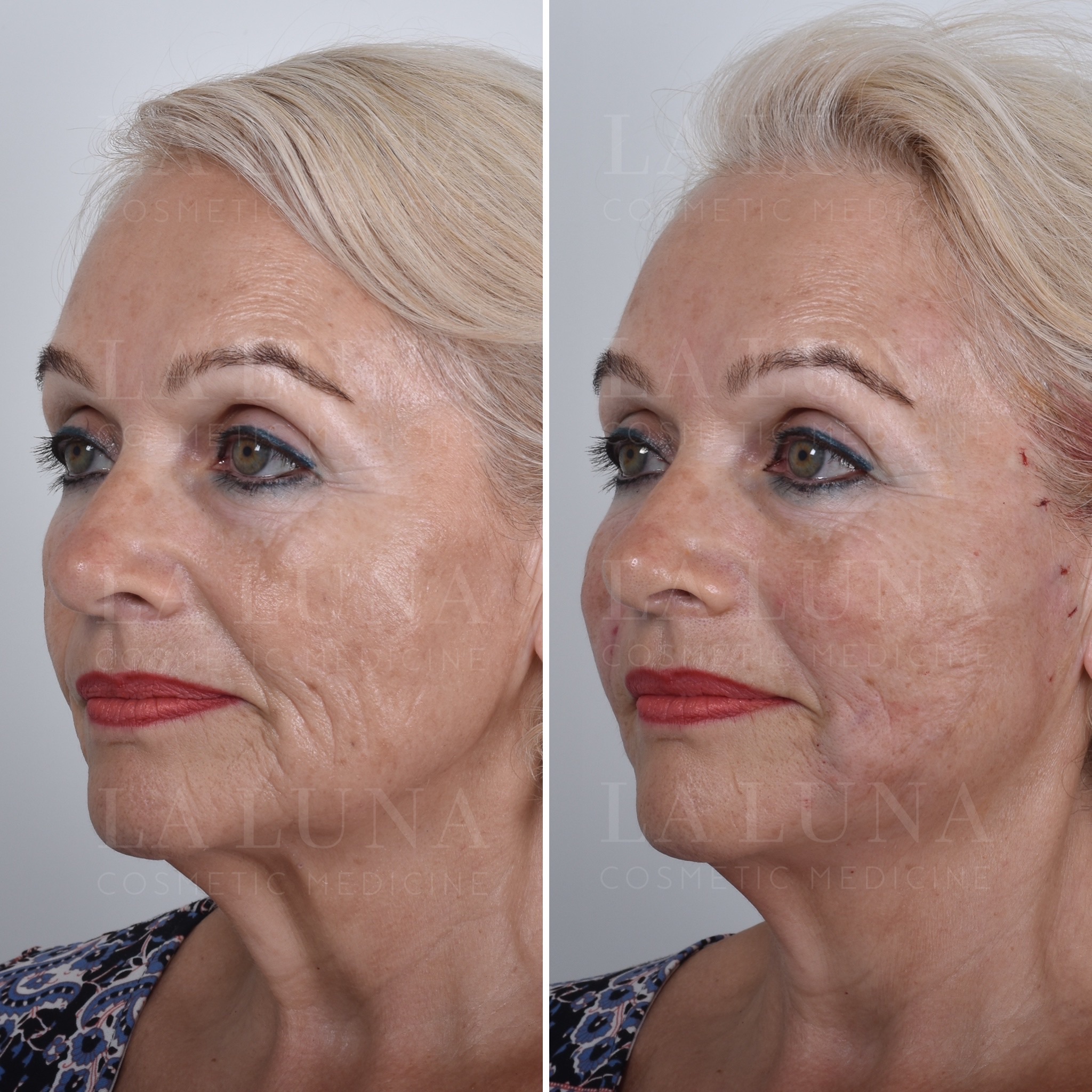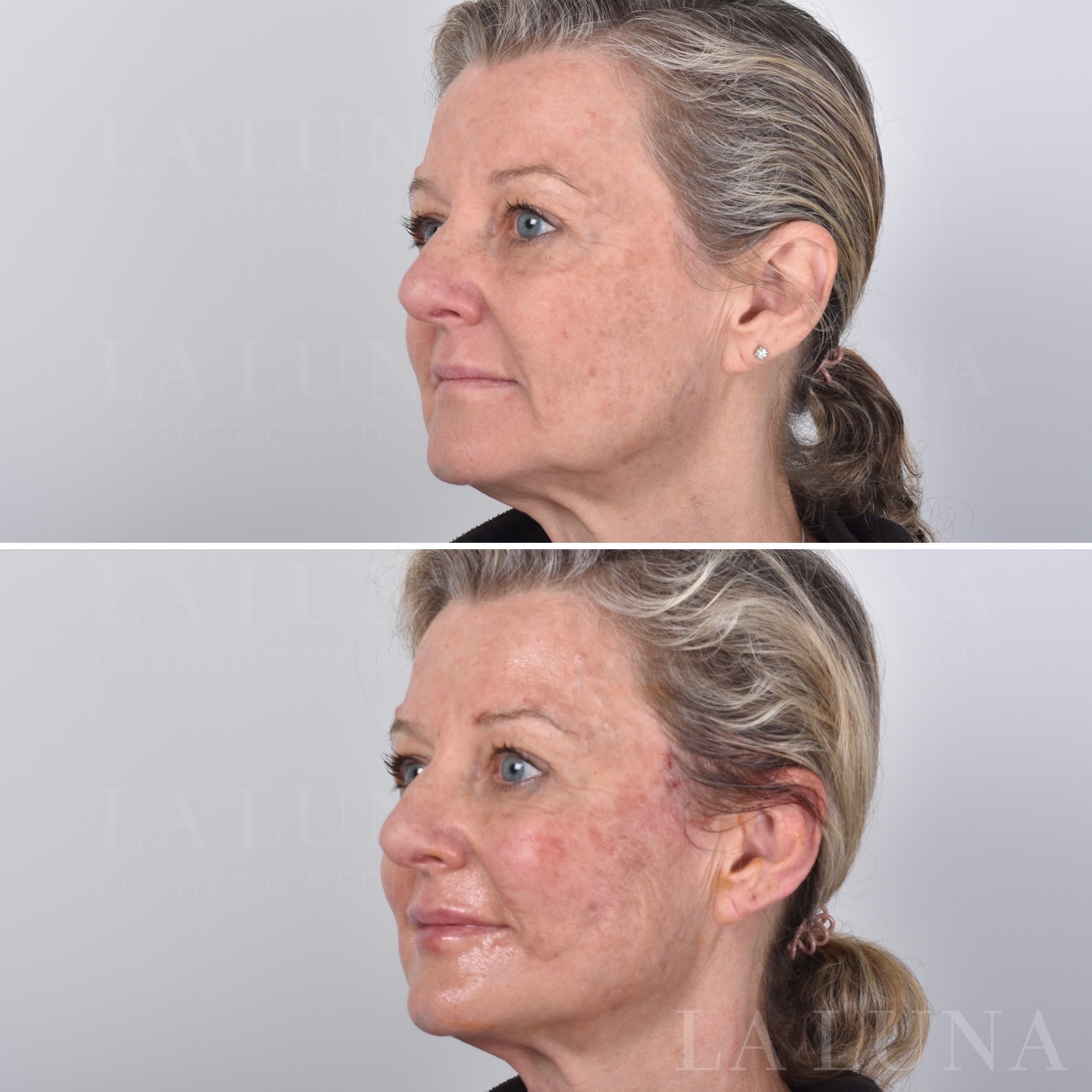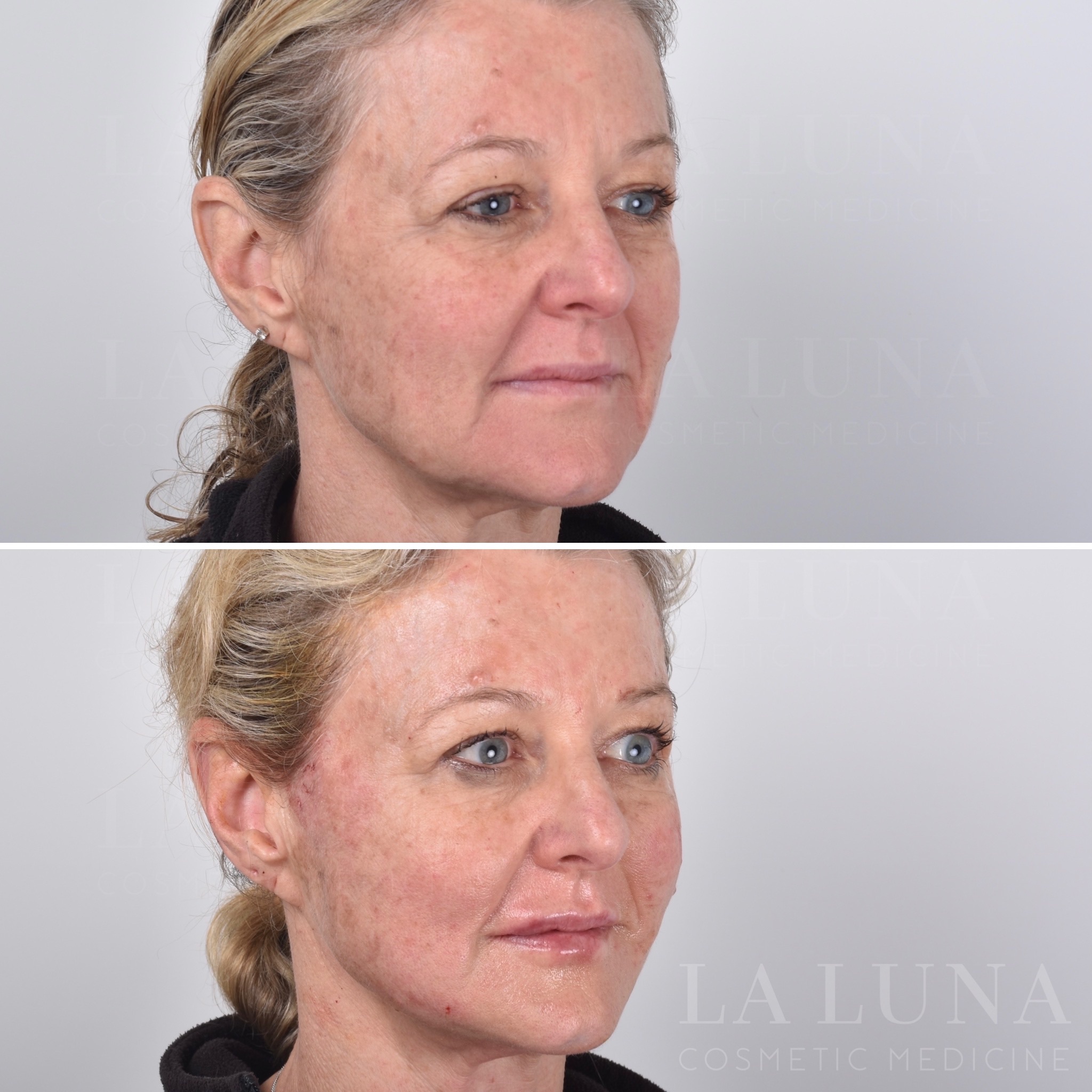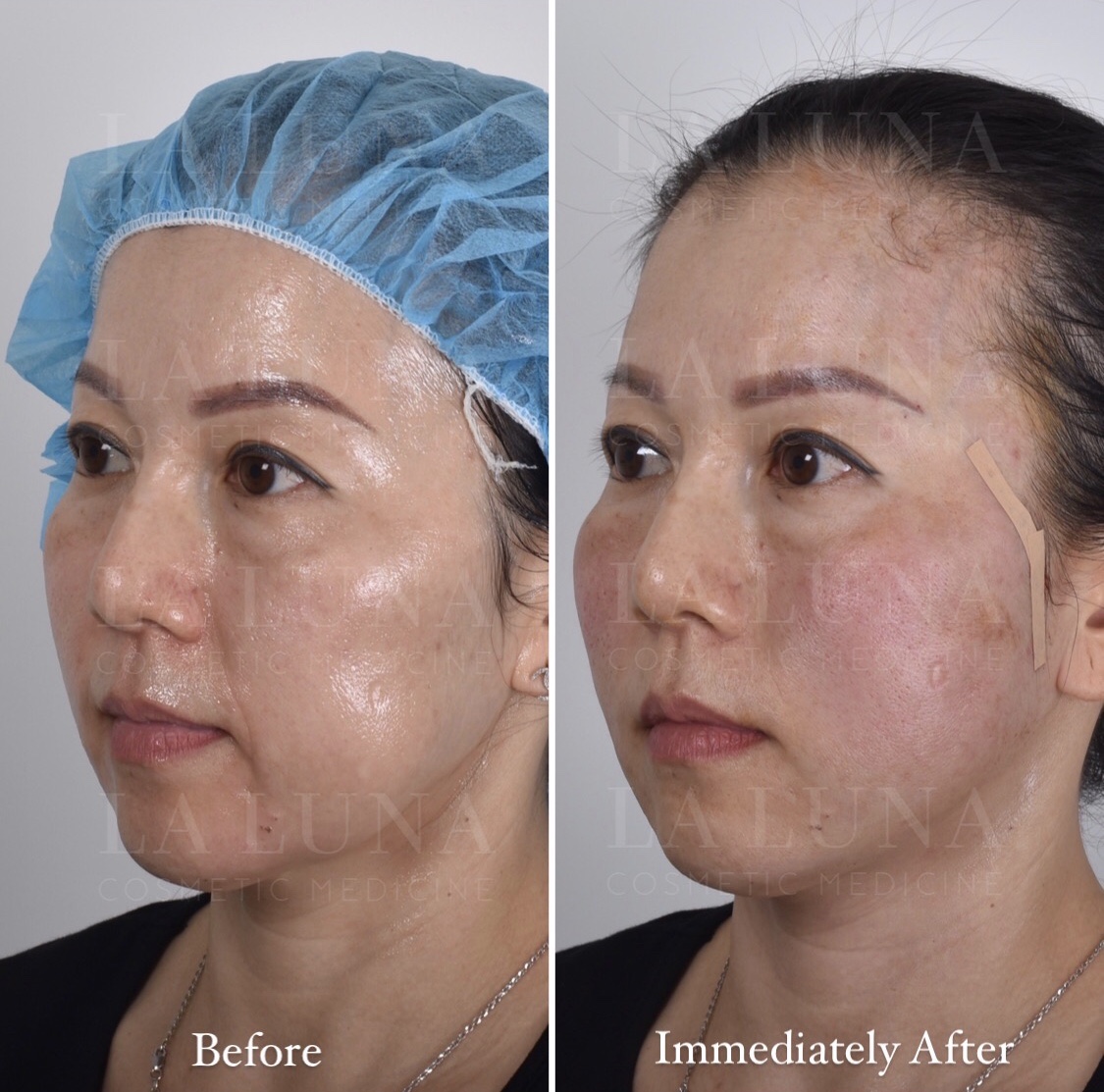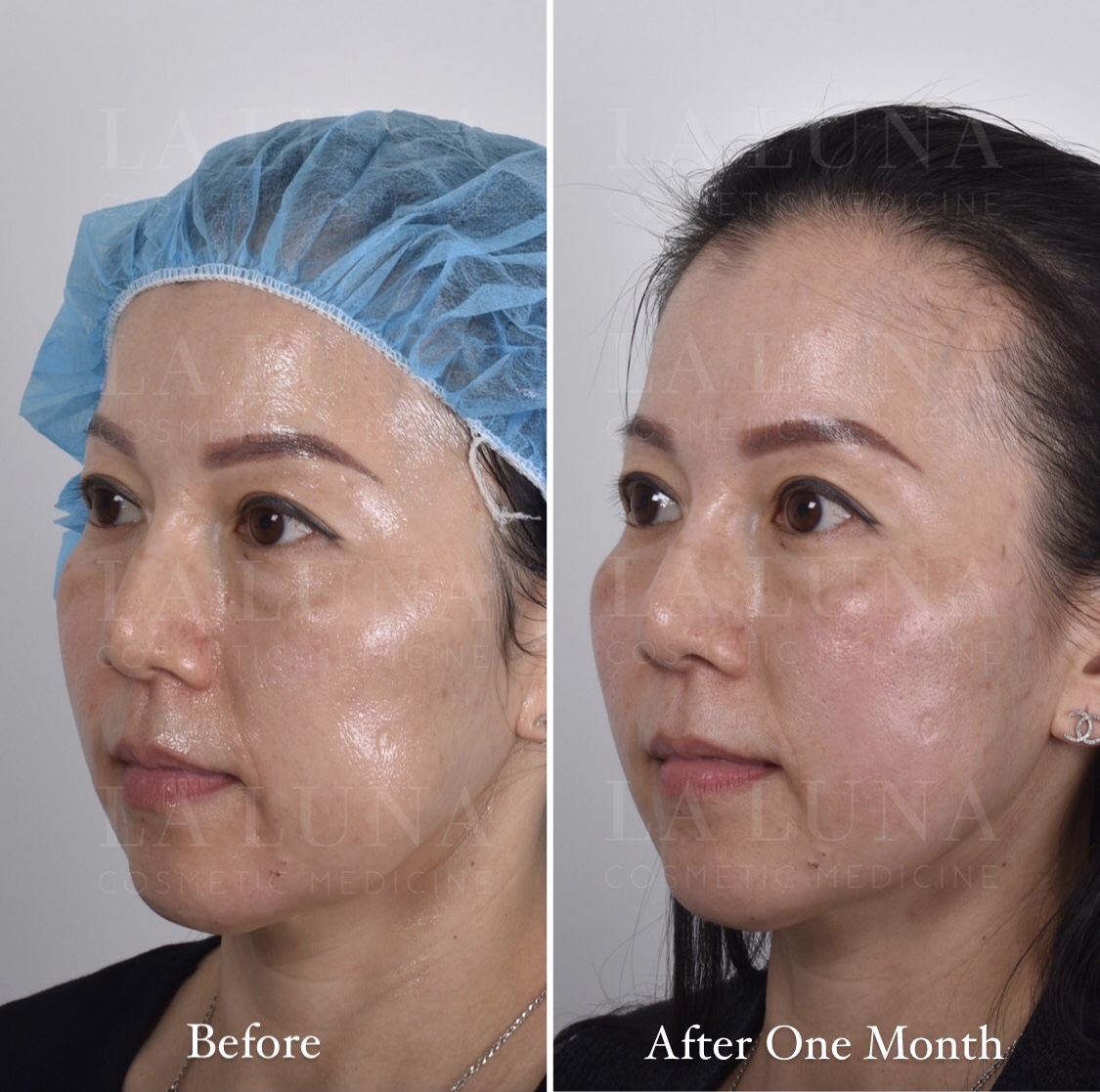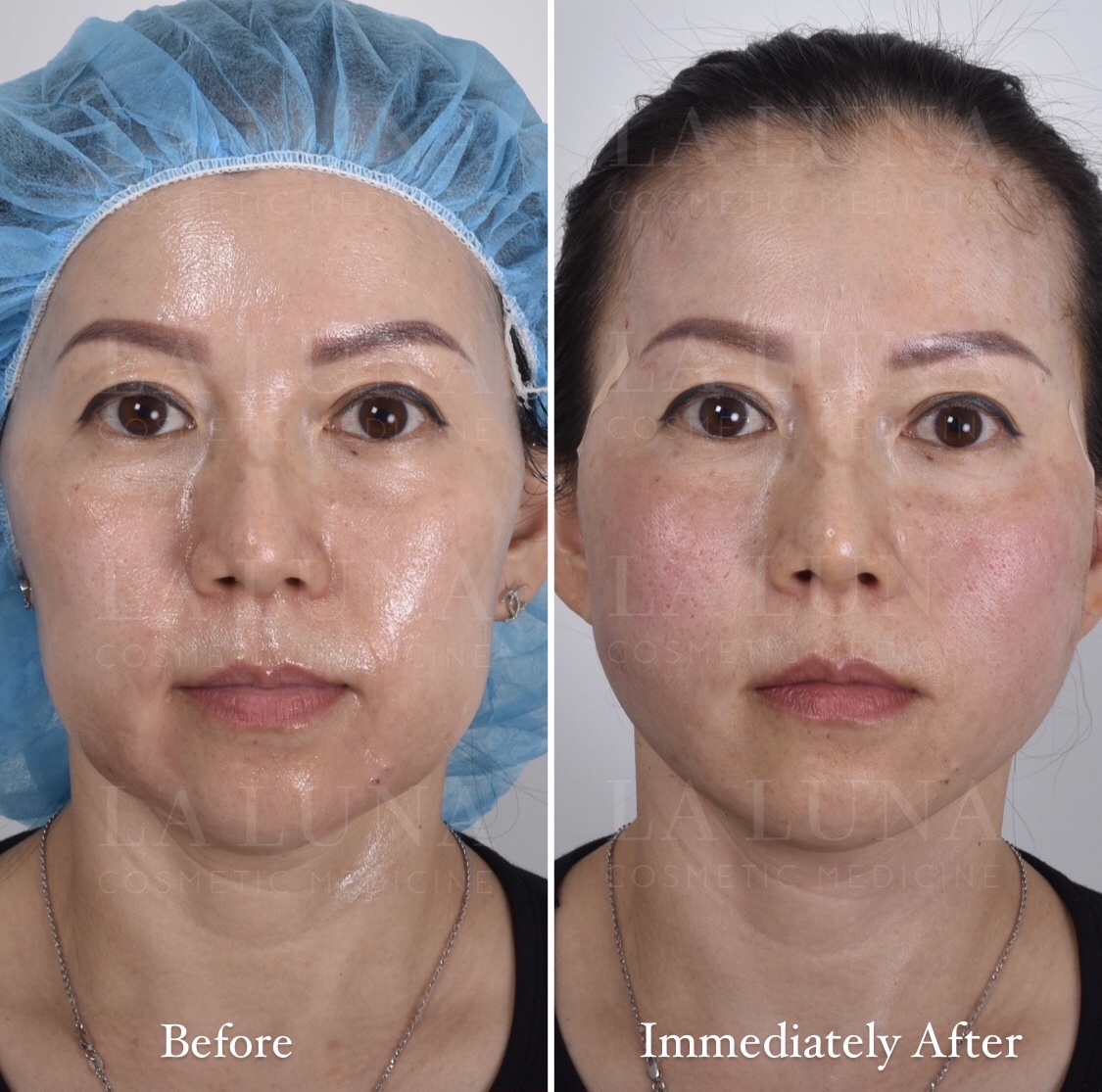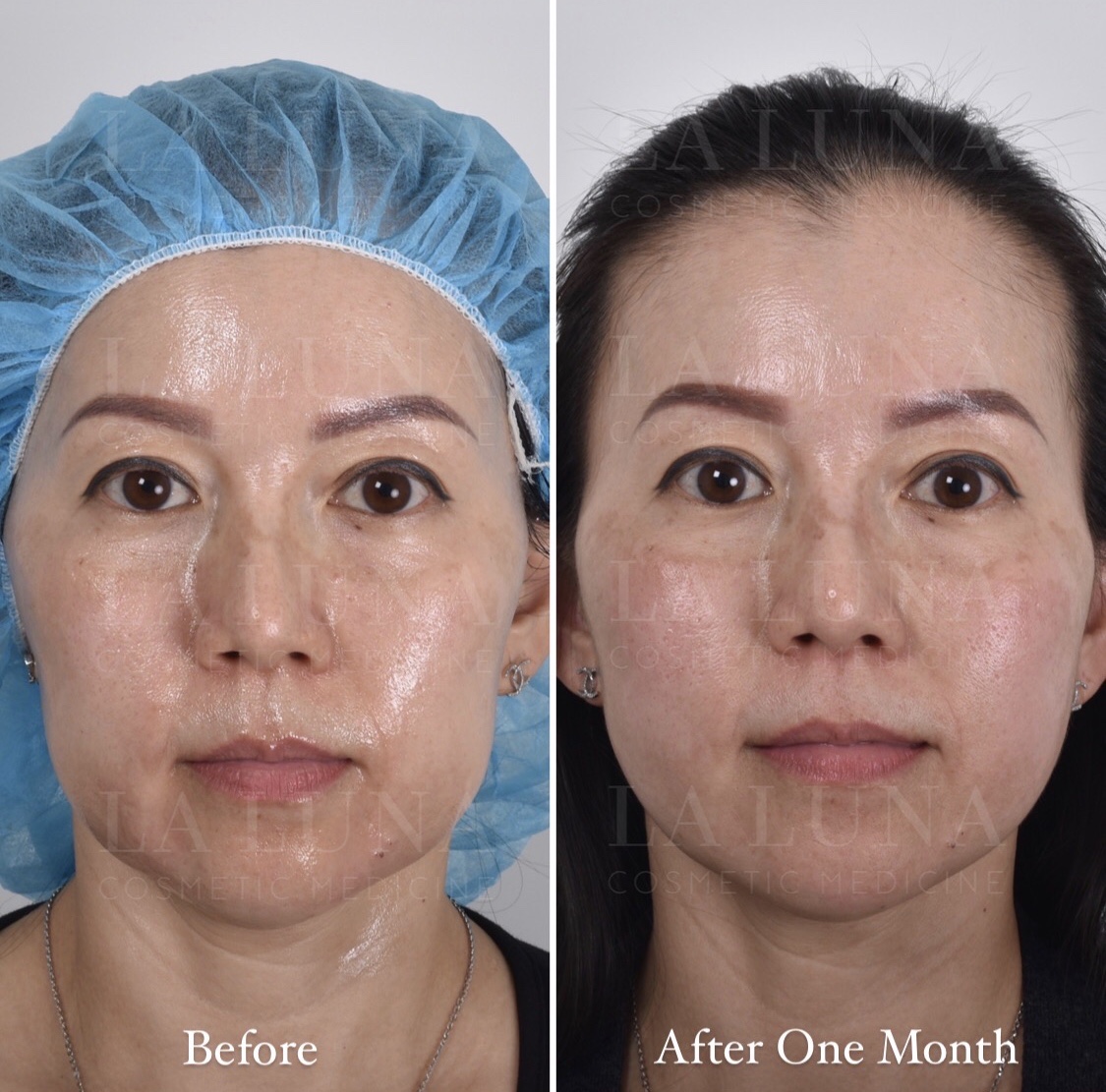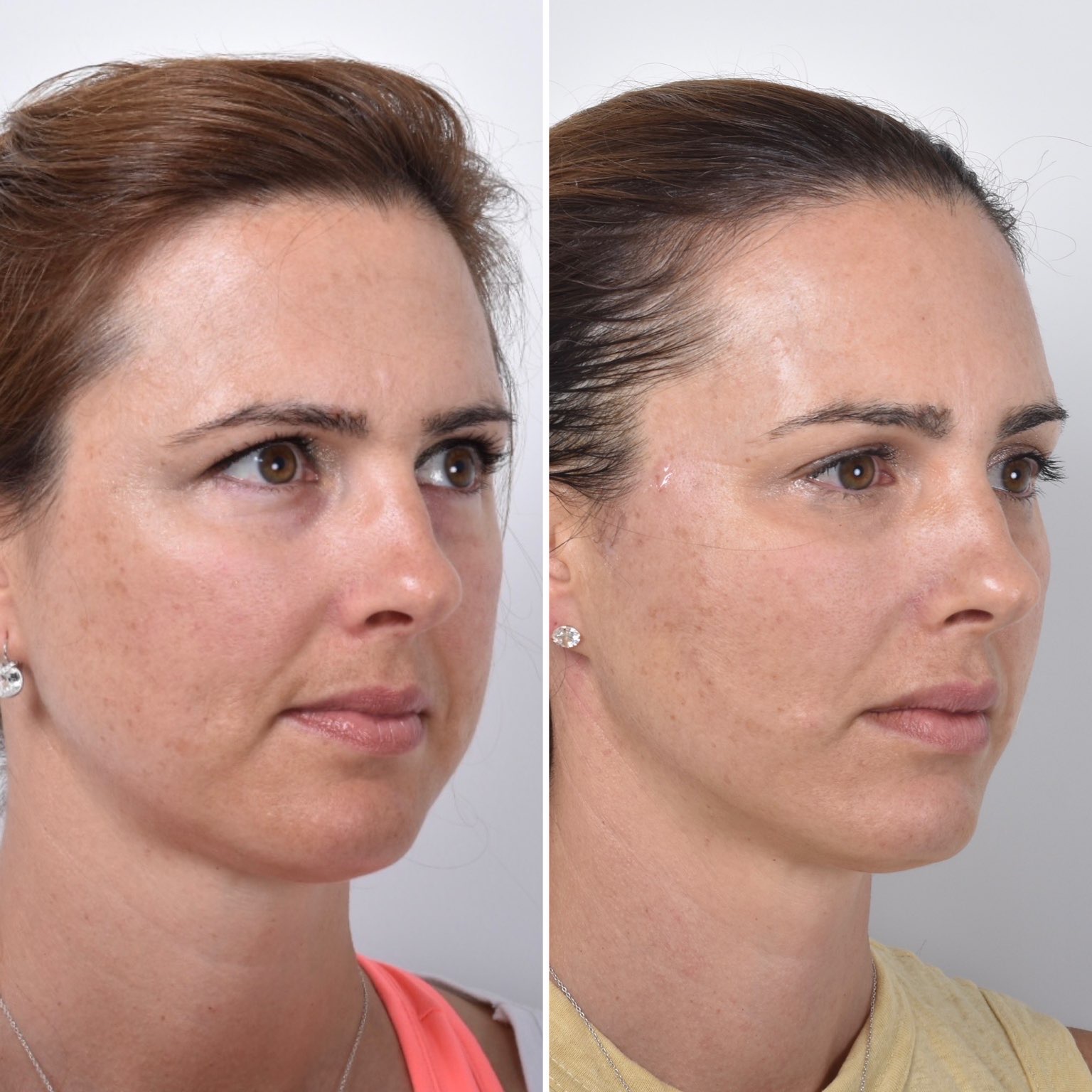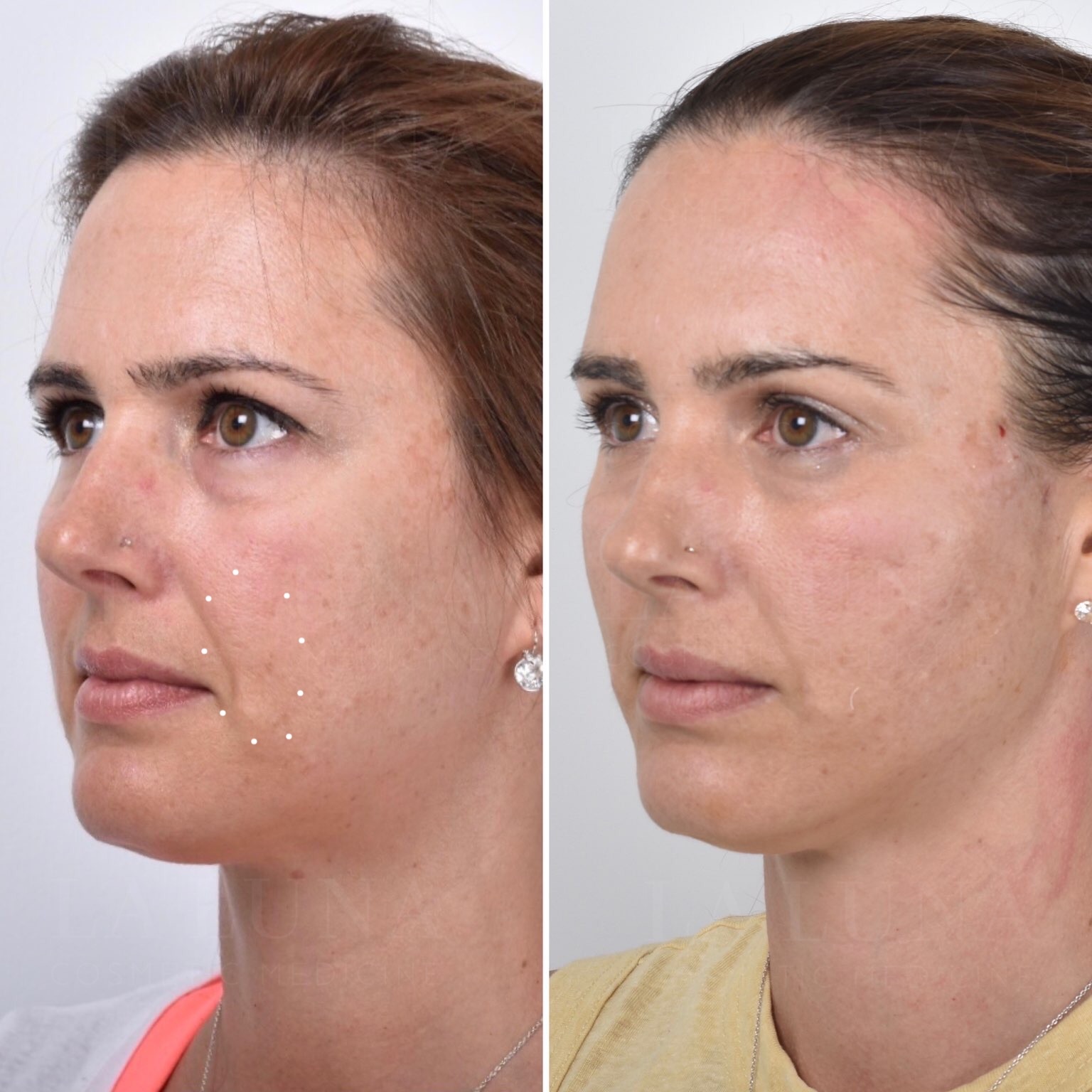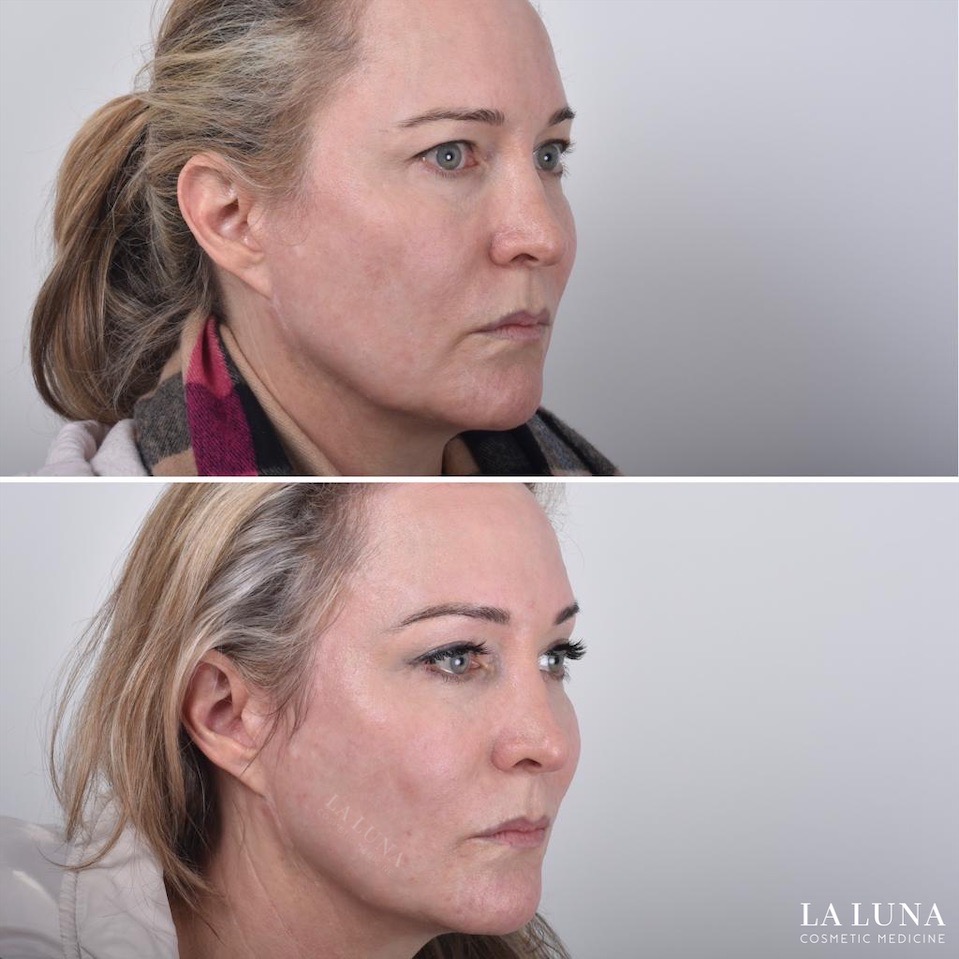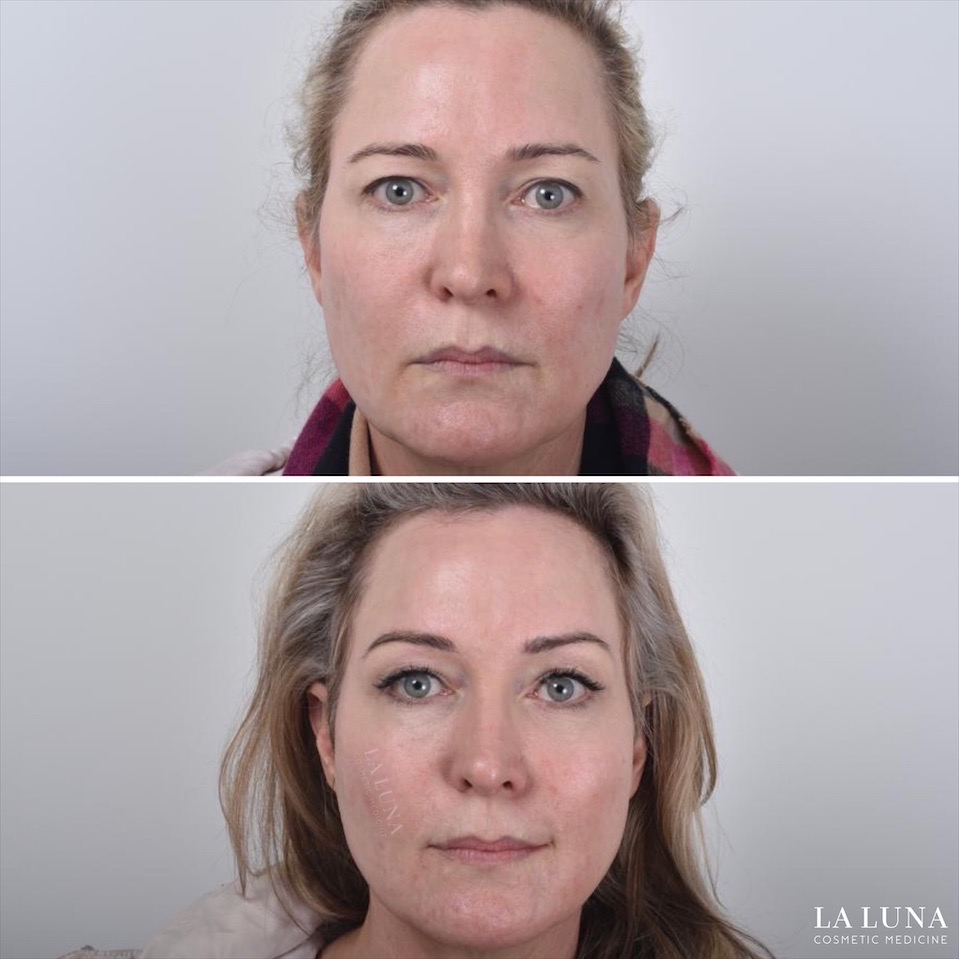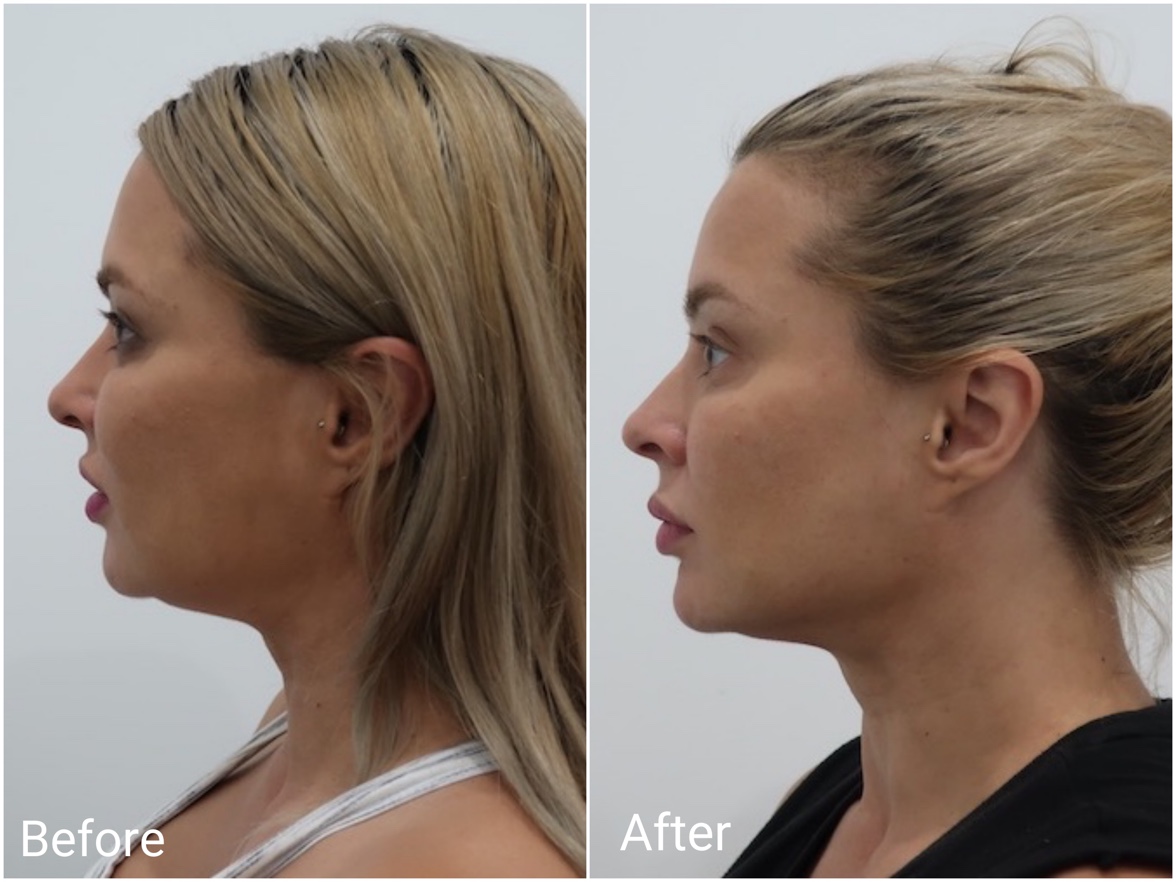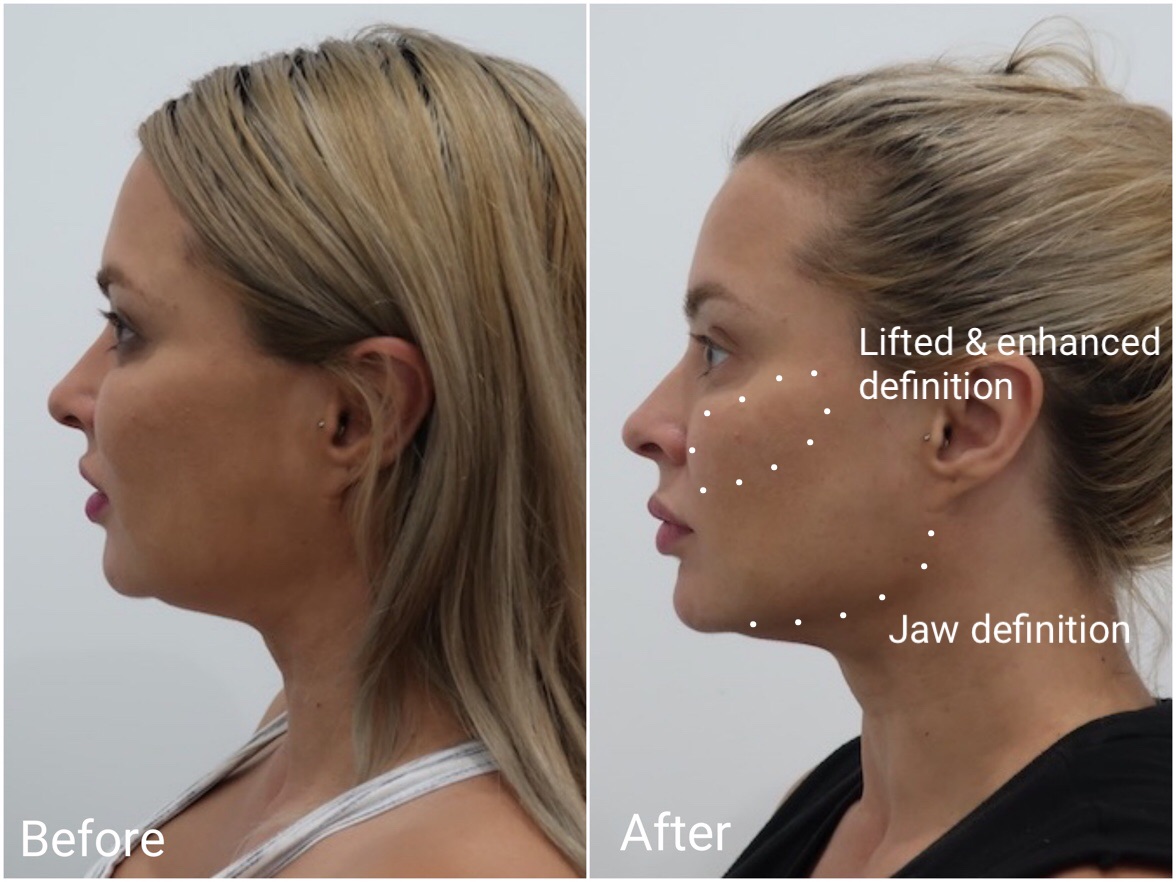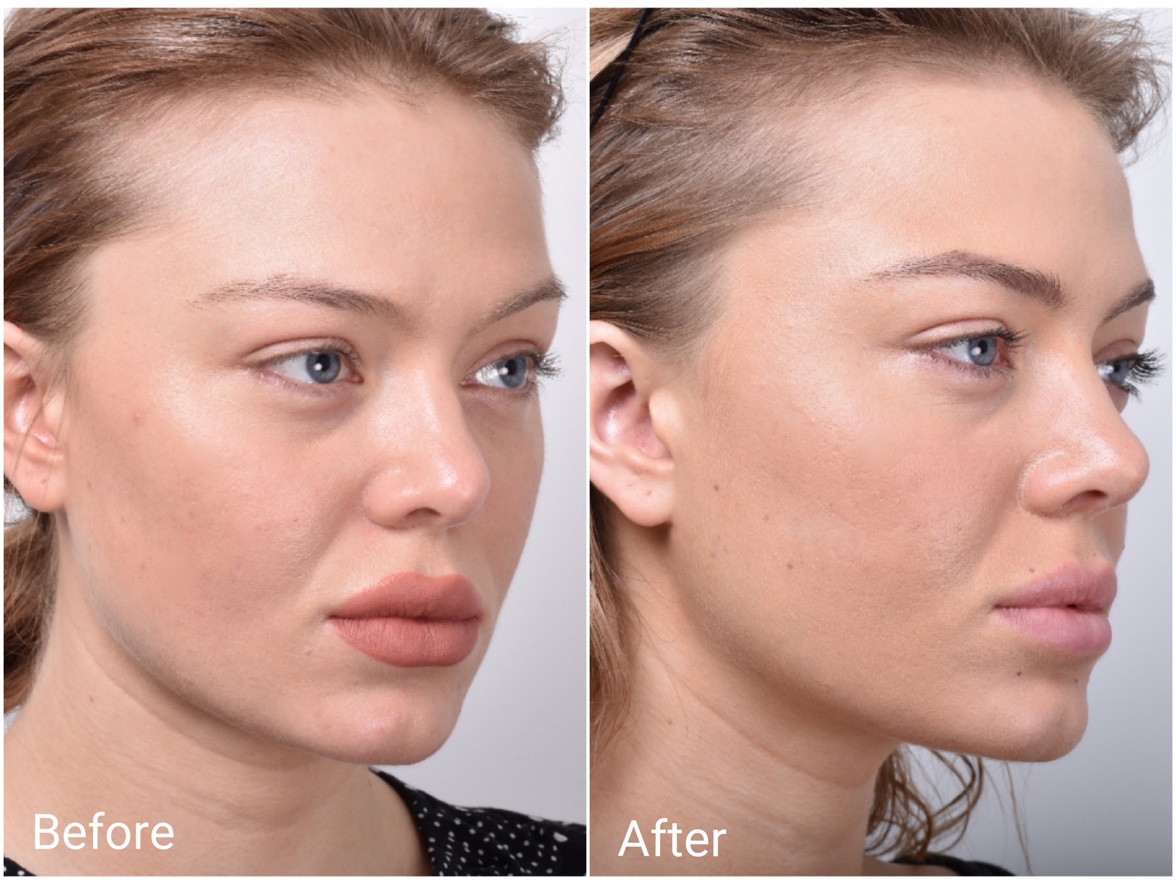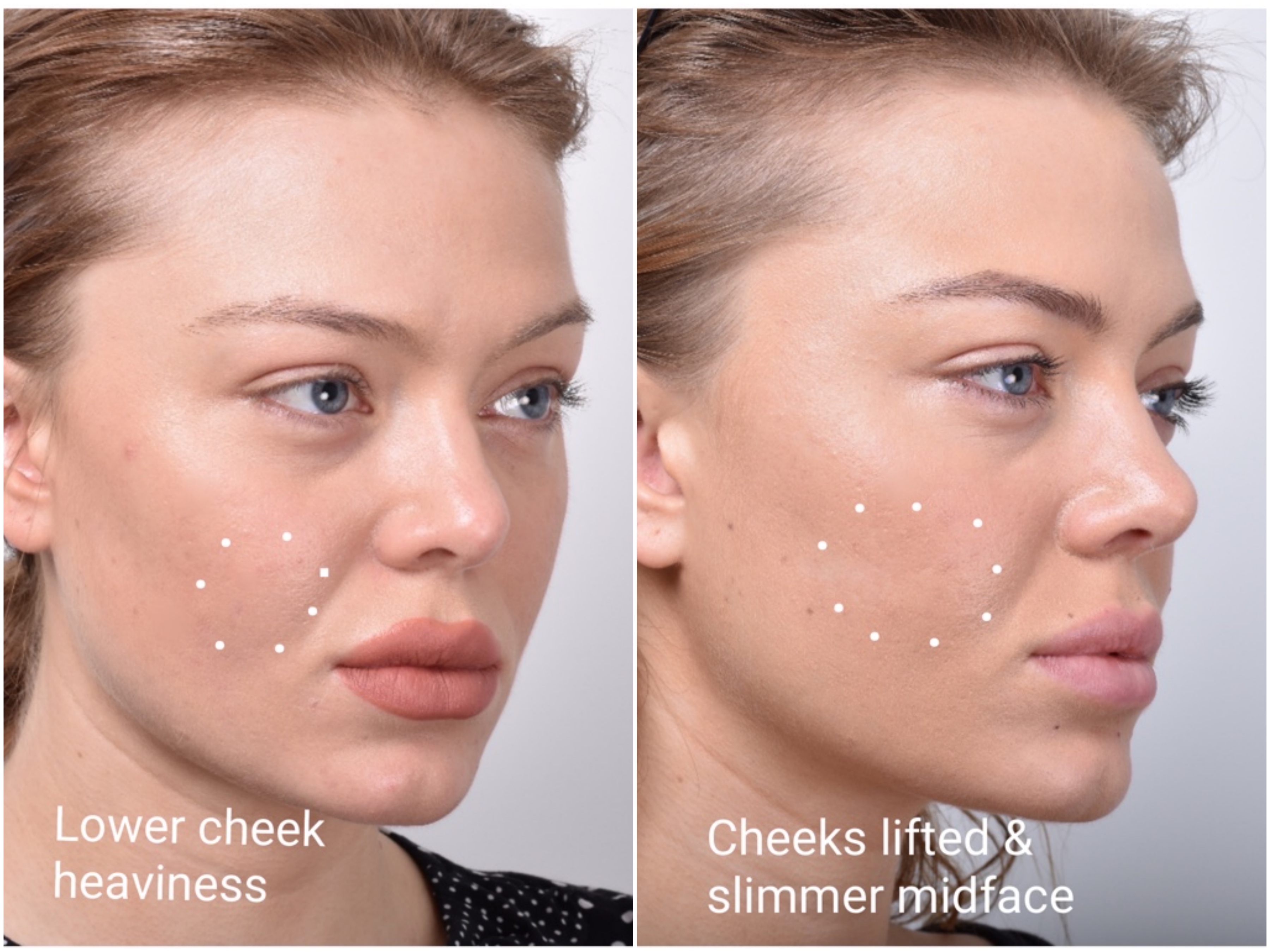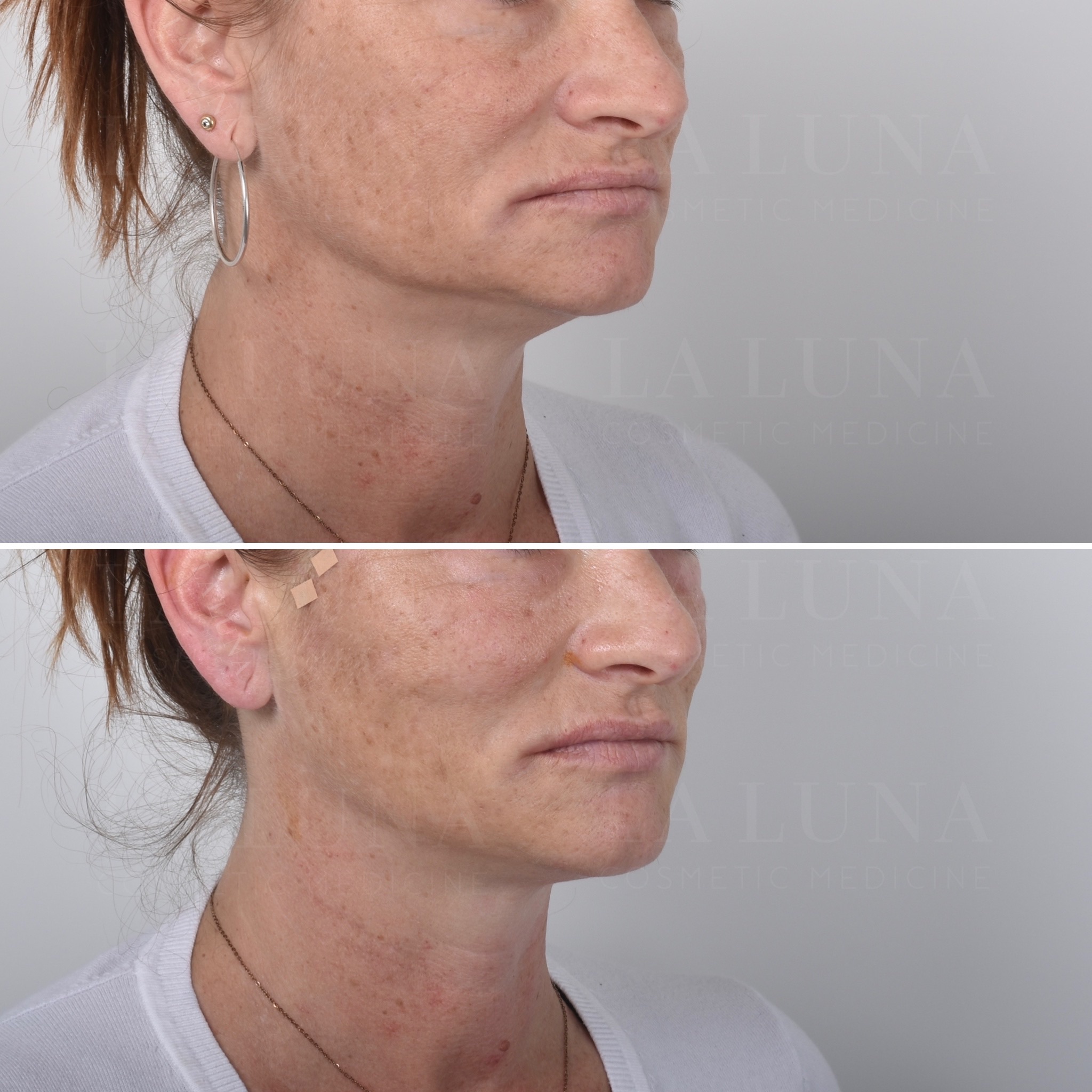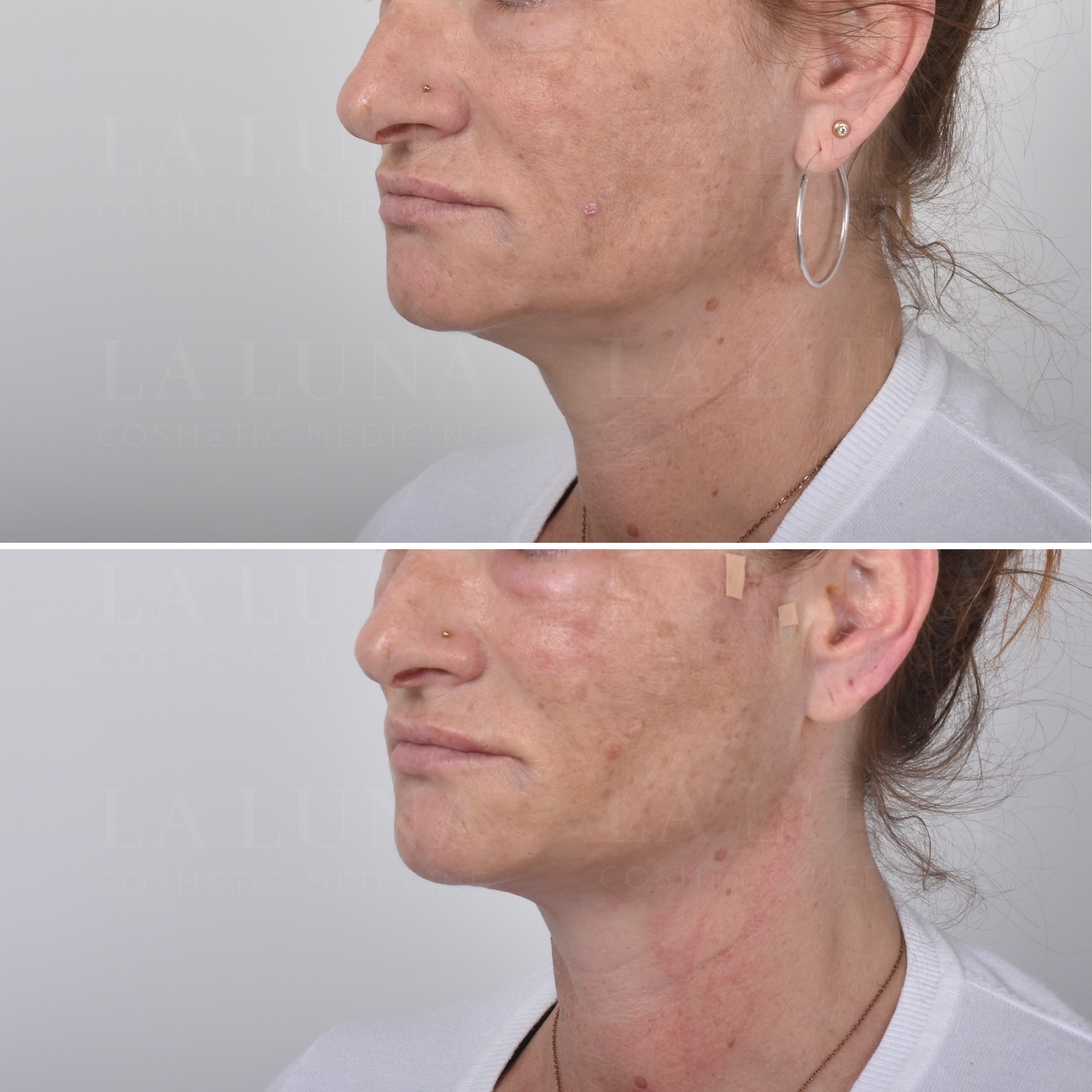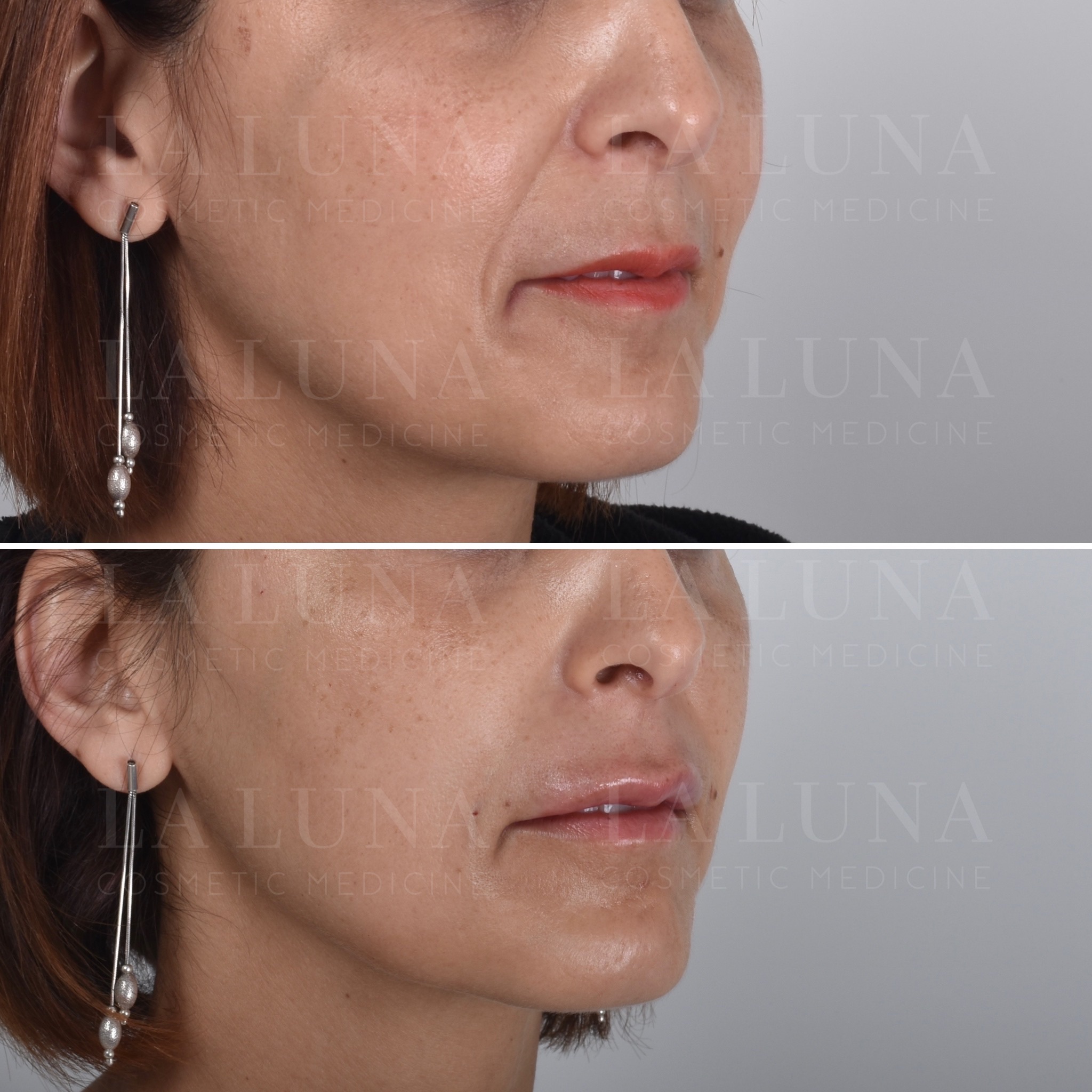 A non surgical thread lift uses tiny threads to gently lift skin and tissue that may become drawn down with age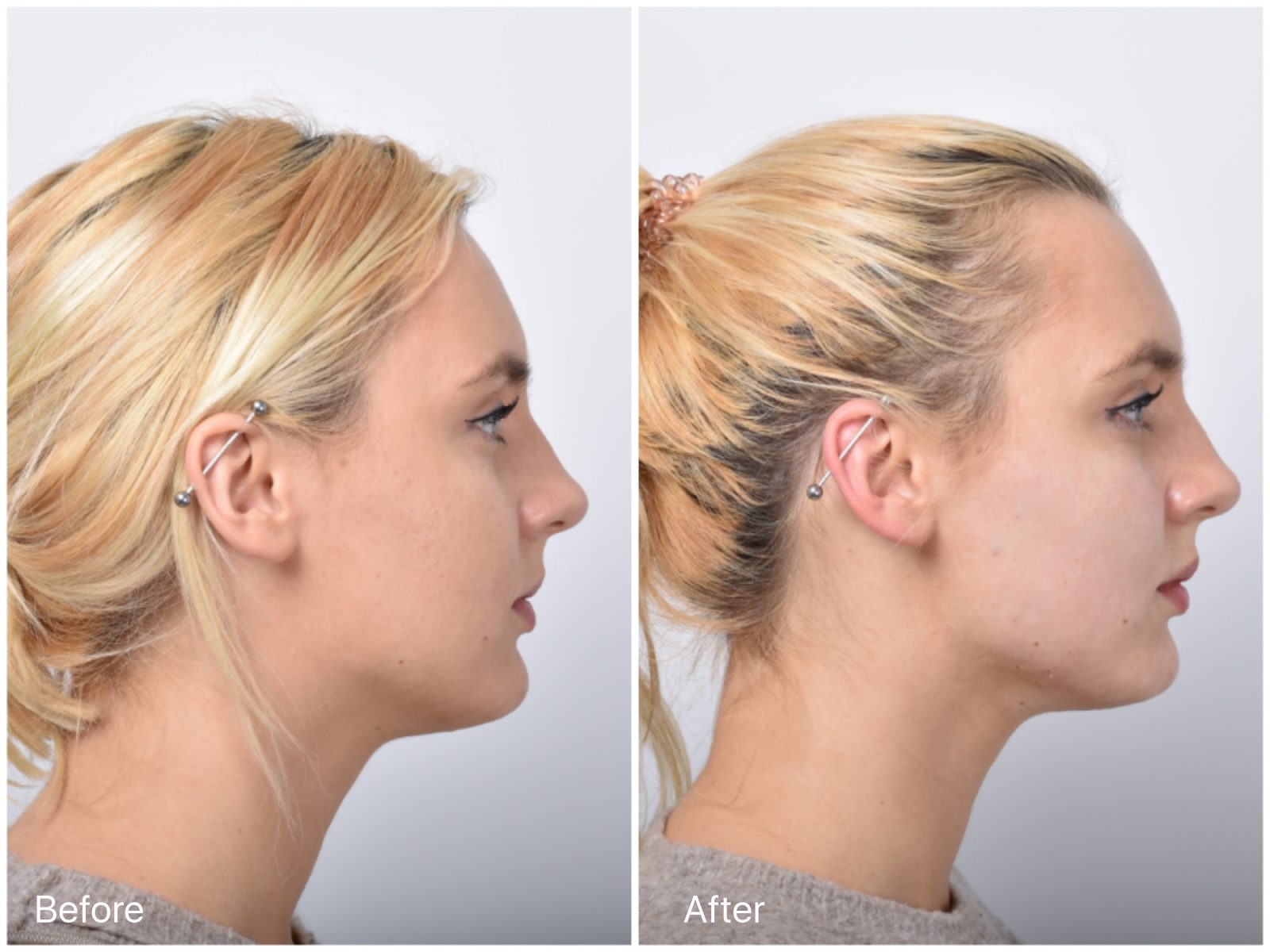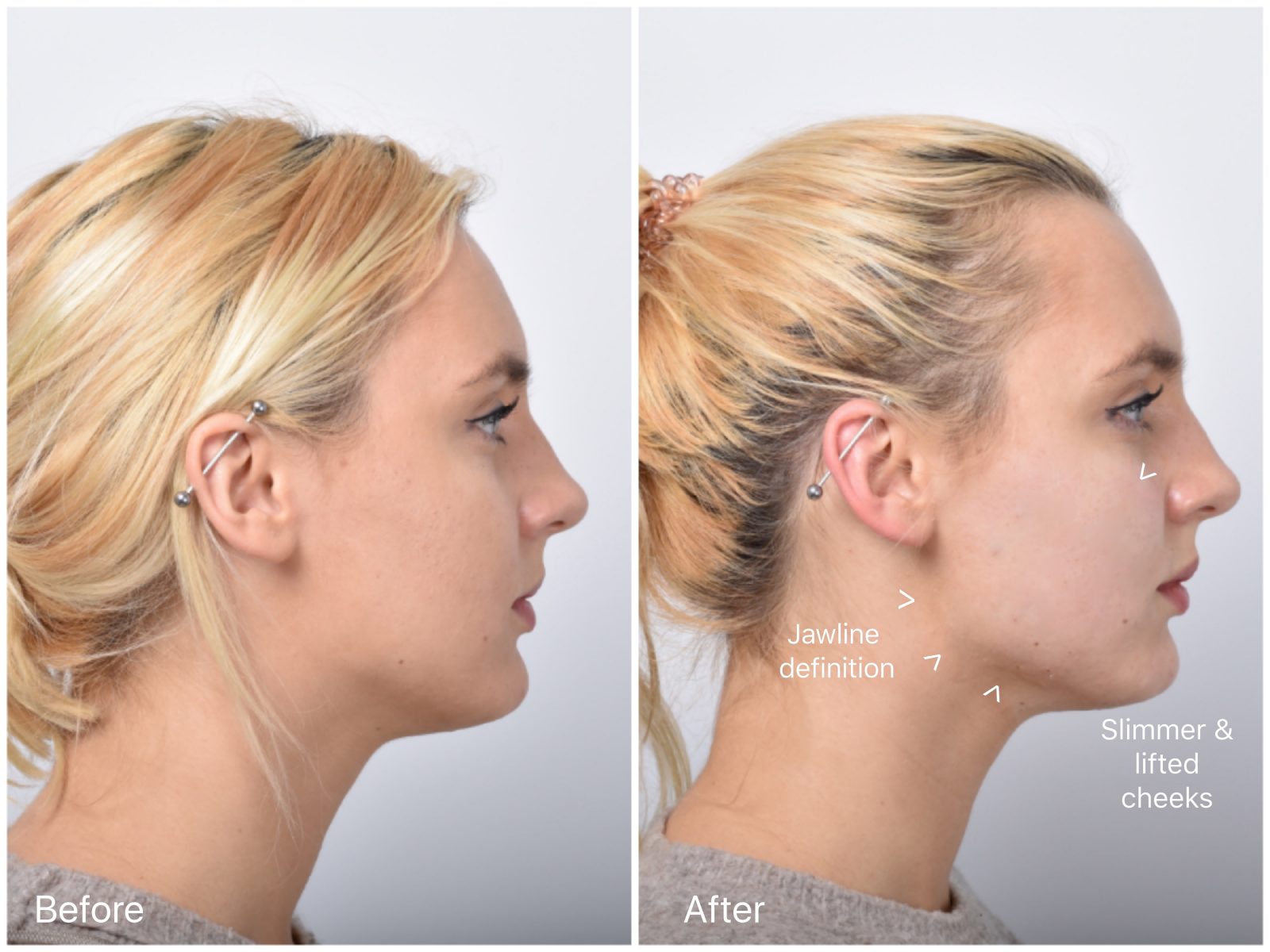 We are an expert thread facelift clinic that was one of the first to bring this technique to Australia. It is our signature treatment carried out by experienced doctors.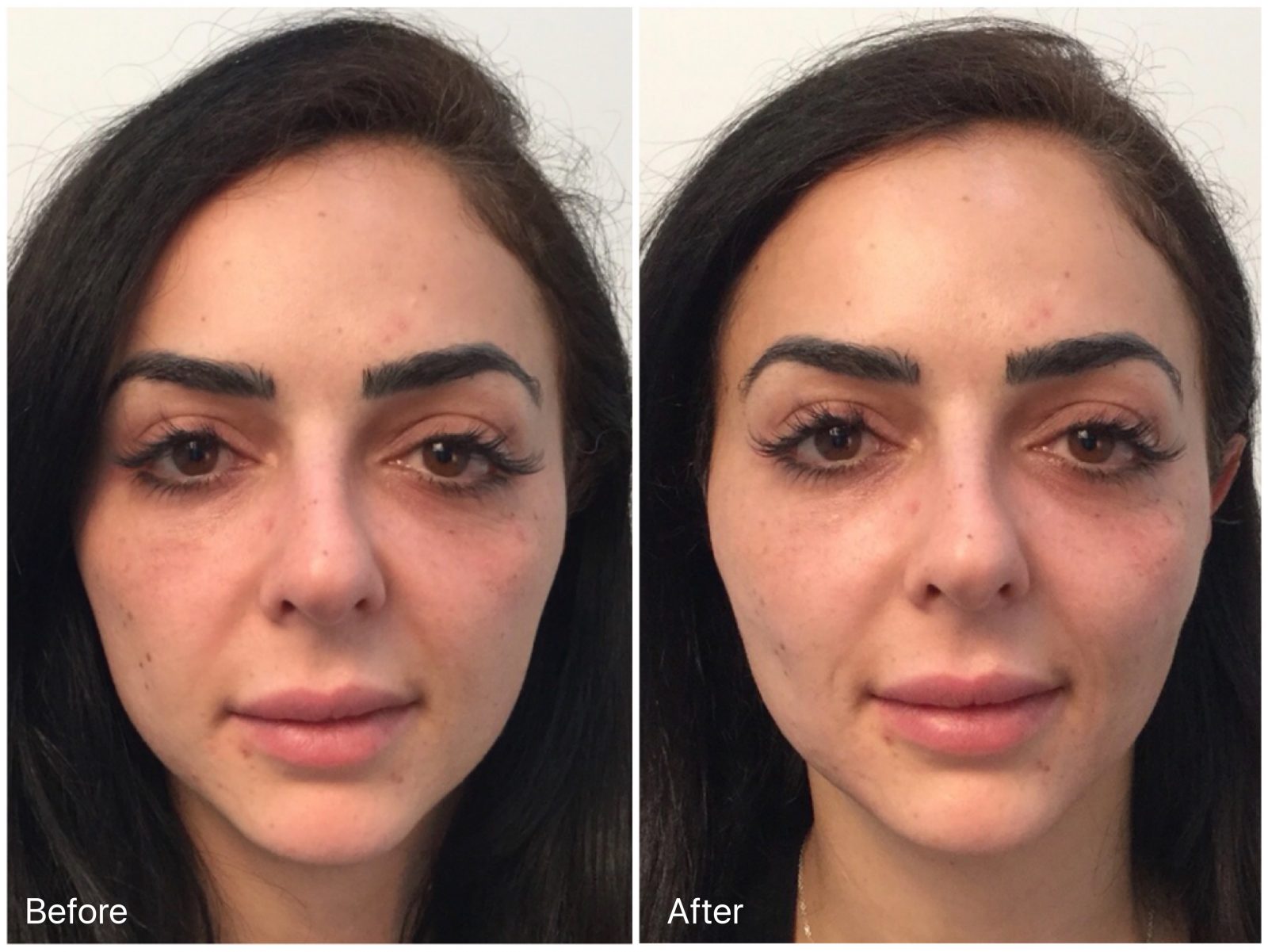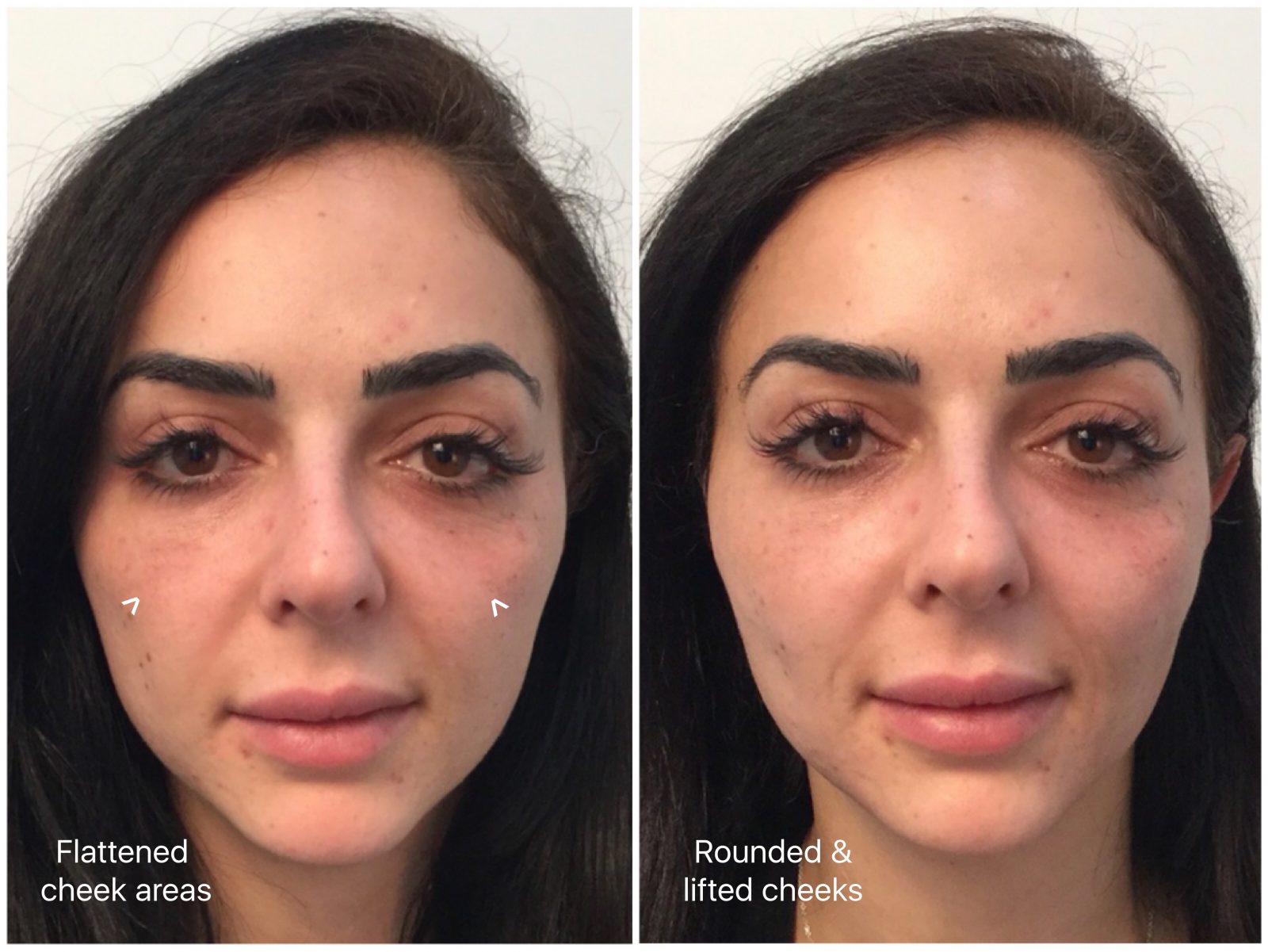 We understand that each person's face is different so we assess and individualise treatments to enhance your unique facial features
Thread Lift Sydney

Looking for the best thread lift Sydney clinic ? Have you been wondering how you can lift sagging skin without surgery? Looking at a non surgery thread lift procedure to tighten loose skin? Well, there are no dermal fillers here and our thread lift Sydney clinic can guide you through your concerns with saggy or loose skin. Skin tightening and lifting sagging skin is no longer a surgical procedure requirement. Whether you are after a non-invasive jowl lift or neck lift, maybe a fox eye lift or cat eye lift, Laluna is one of the leading non-surgical thread face lift clinics in Sydney operated by some of the most experienced cosmetic doctors.
Skin tightening through non-surgical facelifts is also known as Thread facelift to lift and define key areas of the face by tightening loose skin on the face from aging. Non invasive treatment thread lifts like a neck lift,brow lift, jowl lift, cheek lift or other are non-invasive procedures that should be carried out by experienced cosmetic doctors. Loose skin on the face and neck can be corrected through thread lift procedure which also promotes collagen production.  Surgery for correcting loose skin is no  longer a required procedure for skin tightening.
This is what facelift by threading is. We are one of the few non surgical face lift clinics in Double Bay that offer  face lifts without surgery. Non surgical Facelifts are versatile and can be used to lift saggy or loose skin in specific areas and eliminate many years of ageing.
Cheek Lift can create higher cheek bones while a jowl lift can enhance jaw definition. We also are experienced in brow lifts and non surgical nose lift. Non surgical facelifts are an amazing way to restore and lift tissue that has been drawn down with age. La Luna thread lifts distinguishes itself by providing a natural looking facelift that preserves your uniqueness. We understand that many of our patients desire subtlety and cosmetic enhancements that are proportional and in balance and our thread lifts are just the right treatments.
In our mission to become one of the best Sydney thread lift clinics, we have created a team of highly skilled and experienced cosmetic doctors who have gone through decades of medical and aesthetic training. Our doctors seek balance and proportion in all our treatments. Anyone with saggy or lose skin can be a good candidate for a thread lifting treatment.
As we focus on becoming one of the best Sydney thread lift anti aging clinics, we offer many services to help restore, revitalise and enhance your face and body. A non surgical facelift threading or what is also known as facelift by by threading procedure can lift sunken areas, define the cheeks and jaw and slim the face. Some also refer to this procedure facelift as pdo thread lift since fine threads called pdo threads are used to lift the face.
Our natural look thread lifts help you look better without creating drastic changes that disturb your facial harmony. At La Luna we aim to enhance our patient's natural beauty by giving you a more youthful and refreshed look without looking "done". Check out our non surgical facelifts before and after at the top of the page. These natural looking thread lifts create a beautiful contouring effect to the face by adding support to the tissue structure underneath the skin which also encourages collagen production as well. Being a natural look cosmetic clinic, we are extensively experienced in this field and our cosmetic doctors in Sydney are highly experienced when it comes to natural look facelifts
What Is Involved With a Face Lift Without Surgery ?

How To Get Rid Of Loose Skin



Non-surgical thread lifts are a minimally invasive procedure used to restore and lift areas of the face without the need of undergoing a surgical procedure for a face lift. Non surgical thread facelift involves using absorbable threads to support and lift the tissue structures underneath the skin, creating a more youthful and refreshed appearance.  A facelift with threading also improves the appearance of the skin as the threads stimulate the production of collagen which improves skin texture and firmness. Our cosmetic treatments strive for natural looking and youthful results. Just look at our skin tightening treatment before and after shots.
Most Popular Thread Lift Treatments

Thread lift treatments are versatile and can be used almost anywhere on the face. Common areas are neck lift, cheek lift, brow lift, chin lift, jowl lift or anywhere in particular that requires a natural looking lift without surgery. Our thread lift Sydney cosmetic doctors can ensure you that we provide the best possible treatments with minimal discomfort through local anaesthetic while providing a natural and subtle looking skin lift.
Cheek Thread Lift
A cheek lift is one of our most popular procedures and works to lift and tighten cheeks for high and defined cheekbones. Cheek drooping is a common problem for many people who suffer lower cheek droop. A cheek thread lift in these cases always restores a youthful and natural appearance by way of thread lifting and without the downtime of facial surgery.
Jowl Thread Lift



Our Jowl lift works to increase jaw definition for a slim and enhanced jaw line. Our facelift treatments for marionette lines can lift saggy skin around the chin and early sign of ageing eliminating jowl droop ana again restoring a defined, youthful-looking jowl.
Neck Thread Lift
A neck lift is the best method for tightening skin around the nect and jowl areas. Loose skin or sagging skin is often a sign of facial ageing. In many cases, most neck thread lift procedures are usually performed as part of a facelift. A neck and jowl lift for instance which go hand in hand . A Neck thread Lift can tighten loose neck tissue whilst an eye lift can lift the eyebrows for a rejuvenated and refreshed look. One of the best ways to deal with a non surgical double chin removal
Fox Eye Thread Lift Or Cat Eye Lift
Suffering from hooded eyes ? Thread lift for hooded eyes can help lessen loose skin around the eyes. One of the most popular eye lifts are Fox Eye or cat thread lift which is also in demand. Common eye concerns like droopy eyes or eye bags can be treated with non surgical eye lift by experienced cosmetic doctors . Eye lifts are an exquisitely natural looking and effective non surgical treatment for skin tightening and lifting the eyes. These treatments are a subtle and natural looking fox or cat eye look  which produces natural looking eyes only to complement other facial treatments.
Nose Thread Lift
Nose lifts are a non surgical treatment that works to straighten the bridge of the nose. It also assist in lifting the tip of the nose for a sharper profile. Small fine hair like threads are inserted through a pin point entry in the skin and placed on top of the nasal bridge. The threads dissolve after appr six to eight months however, results last up to twelve months. This is because the threads stimulate collagen around the area where the threads are inserted.
This collagen works to keep the nasal bridge elevated and straight after the threads have dissolved. A nose lift takes less than an hour and is done with a local anaesthetic for min discomfort. Downtime is also minimal and many of our clients are back to their daily activities the next day. You may have some bruising or swelling but this usually resolves within a week. The nose thread lift is ideal for patients who wish to increase definition of the nasal bridge or lift the tip of their nose. If however you desire to reduce the size of your nose, corrective surgery will be in order. Talk to our Sydney thread lift doctors about the best individualised approach for you.
Bookings: 02 8096 1919
Does a non surgical face lift hurt?
The non-surgical face lift may cause minimal discomfort due to the pulling sensation of the pdo thread however, numbing cream is applied before any skin tightening treatment. 
How long do non surgical face lifts last? 
Non-surgical face lifts last for 12 months as it lifts the tissue structure underneath the skin. The pdo threads dissolve after around 6-8 months but the youthful results of lifted and tightened skin lasts much longer. This is because the threads promote collagen our skin's natural structural protein.

What Areas Can Be Treated ?
Lift sagging skin on the face

Lift jowl area

Add volume to the cheeks

Create contours on the face

Eyebrow Lifts

Nose straightening and lifting

Lip lifting

Lift and define jawline

Lift and rejuvenate the neck
When Can I See Results With a Non Surgical Face Lift ?
The results are able to be seen immediately after the treatment and the full results are seen 3 to 4 months after non surgical facelift procedures. Check out our before and after photos showing the youthful results of our pdo thread lift treatments.

How often do I need to do a Treatment ?
It depends on skin laxity, lifestyle and genetics. In general the treatment in repeated in 12 months
What Can I Expect After Treatment?
You may feel sore and tender on the treated area which may last up to a few days. This is standard expected and min discomfort with non surgical facelifts. Most patients can continue with their daily activities after a non surgical facelift procedure. Here at our thread lift Sydney clinic. we always strive to make your visit as comfortable and pain free as possible.

What can I expect during A Skin Tightening Treatment ?
During a skin tightening treatment, most patients experience minimal discomfort and pain. We are very experienced in our cosmetic treatments particularly the non surgical facelift. We have very experienced doctors in this procedure and they strive to be the best non surgical face lift clinic in Sydney for cosmetic treatments.
Book an individualised assessment with La Luna Sydney cosmetic clinic today.
What is the difference between PDO thread lift and a normal non surgical facelift Threading ?
Non surgical facelift is an umbrella term for many different techniques that lift your face without surgery via local anaesthetic. PDO thread lift is a type of non surgical facelift although people often use the terms interchangeably. It is one of the most successful types of facelifts that is gaining a lot of attention in the cosmetic industry. It is exceptionally popular in Korea the world's leader in new cosmetic technology and Europe also. It is predicted that the thread facelift will be the next big thing in the Australian cosmetic industry due to its stunningly natural looking results.
Our doctors have been trained by some of the most influential cosmetic doctors in Korea. Although this procedure is relatively new to Australia we have been implementing this technique for many years. We have carried out hundreds of these procedures and are one of the leaders in Australia for natural facelifts. If you would like to know more about our facial cost, you can always contact us for more information
How Long Do  Thread Lift Treatments Take ?
Treatments can be performed within an hour and there is minimal discomfort throughout. The pdo thread lift uses many very thin threads over about 45 minutes to 1 hour. After the procedure, there is minimal downtime and patients are able to go back to their usual activities within a day. If you are after a natural look facelift without surgery, Give La Luna a call today and speak to one of our cosmetic doctors for advice on how to best provide for your requirements when it comes to non surgical facelifts. If you would like a skin tightening treatment cost, just call and talk to one of our cosmetic doctors or maybe drop in at our Double Bay Cosmetic clinic . One visit to our thread lift Sydney practice and you will know why Laluna is the best in non-surgical skin lift treatments
Bookings: 02 8096 1919
How long do thread Lifts last
Depending on the patient's ageing process and individual lifestyle factors, results generally last 12 months. It is recommend to repeat the procedure every year to maintain the results and keep the facial tissues lifted. Even after 1 year the underlying tissues do not suddenly just drop back down as the collagen still provides support however it is recommended to repeat the process to maintain and even get improved results.
Can threading break
No, generally the threads are quite difficult to break with normal facial movements. After the treatment, it is recommended to not perform any strenuous activity or jump as the threads need to settle in and lodge into the tissues.
Is it worth it
Yes, thread lift is a great non-surgical treatment that rejuvenates, restores and enhances facial features.
Is Thread Lifting permanent
No, thread lifts are not permanent treatments. The threads dissolve within 6-8 months and the results are maintained for 1 year
Is Thread lifting dangerous
No, thread lifts are a safe minimally invasive procedure if performed by a cosmetic doctor who is highly trained and specialises in thread lifting. All procedure have some risks which the doctor will explain in detail during your consultation
Can Thread Lifting be done on the neck
Yes, it can be done on the neck to lift and tighten.
Can it be done on the nose
Yes, it can be done to straighten the nose and lift the tip.
What is Cog thread lift
The cog thread lifts are a specific type of thread which has multidirectional barbs which lodge into the tissue.
Which Thread Lifts are best?
To know which lift would be the best for you, it is always best to have a consultation with one of our cosmetic doctors as each patient is different. After assessing your face, anatomy, skin thickness and individual needs and wants, a personalised treatment plan will be developed which outlines which thread lift would be the best option for you and give you the best results.
Which Thread Lifts last the longest
Most threads lifts last 12 months as they depend on the individual patient's lifestyle factors. Sun exposure, smoking and unhealthy diet aides the ageing process and reduces the longevity of the thread lift.